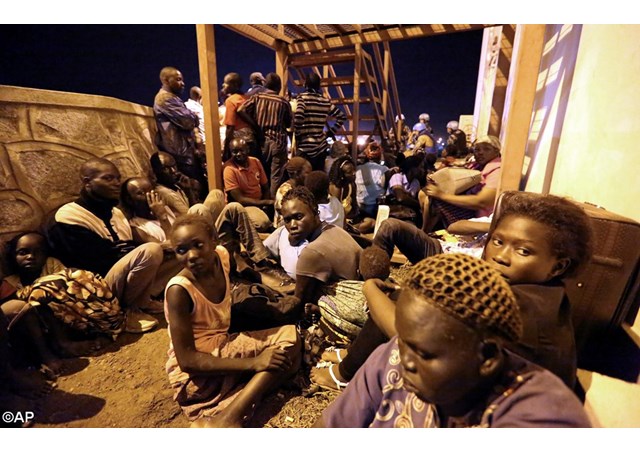 (Vatican Radio) As tens of thousands of people are displaced by violence in Juba, the capital city of South Sudan, the Catholic Church and other faith-based groups are doing their best to offer protection and aid despite a total lack of means.
Fighting erupted four days ago in Juba between followers of President Salva Kiir and Riek Machar, the former rebel leader who became vice president under a deal to end a two-year civil war.
Speaking to Vatican Radio's Linda Bordoni just moments after meeting with South Sudan's Vice President and other top government officials, the Archbishop of Juba, Paulino Lukudu Loro said the humanitarian situation is so desperate "this is the moment, for anyone that can, to step in and save lives".
Archbishop Lukudu also said that on a political level the cessation of hostilities agreed on Monday evening seems to be holding, and that now the government needs to  recompose and take decisions for the good of the nation which risks sliding back into all-out war:
    
Listen: 

Archbishop Paulino Lukudu Loro says the Vice-President had just informed him of the situation confirming the cessation of hostilities across the nation and that all military personnel have been ordered to report back to their own garrisons.
The Archbishop confirmed that there has been no fighting since 6pm on Monday evening and he said the government will now have to re-gather, recompose and talk.
However he talks of a dramatic humanitarian situation in Juba where the UN has said there are some 36,000 people displaced by violence.
"In our Catholic Churches and communities we have more than 16,000 displaced people with many more in Mosques and in other faith based communities" he said.
Archbishop Lukudu said the people being sheltered are calm "but they are not going back home because they are not sure the decision taken will hold."
Many, he pointed out, cannot go home because their houses have been shelled and looted and they are afraid to leave the Churches or places of displacement.
"The situation is calm, but on the ground the humanitarian situation is one of misery" and support is urgently needed, he said.
The Archbishop said he has no first hand evidence but he has heard the Red Cross is delivering some aid. The Church itself – he said – has no means.
"I do not know how I can make myself understood and comprehended very well, but our situation is very difficult" he said. 
And with a heartfelt appeal he continued: "if there is anyone at all that can help us, this is the moment to save lives".
If the people of Juba and of South Sudan do not receive assistance "a lot of us will die".
His appeal, the Archbishop said, is "to the whole world, to our own brothers and sisters in faith in our humanity, if they can at all help us in this particular moment" which has been imposed on us "we shall be very grateful and thankful to them that they will save lives".
The Archbishop says the UN is present in Juba running refugee camps but UN personnel is  not able to travel freely in the city to help all the people sheltered in Churches, in Mosques and in other communities.
Archbishop Lukudu says all the faith-based organizations in the country are engaged in dialogue with the leaders. 
And he points out that the desperate people fleeing violence turn to faith-based groups without fear "and so we are doing our best, sharing what we have".
Archbishop Lukudu concludes: "I know there are many sufferings in the world but ours – in this moment – was not expected and if we can be rescued and helped, we would be very grateful, and I want to thank anybody who will do that".