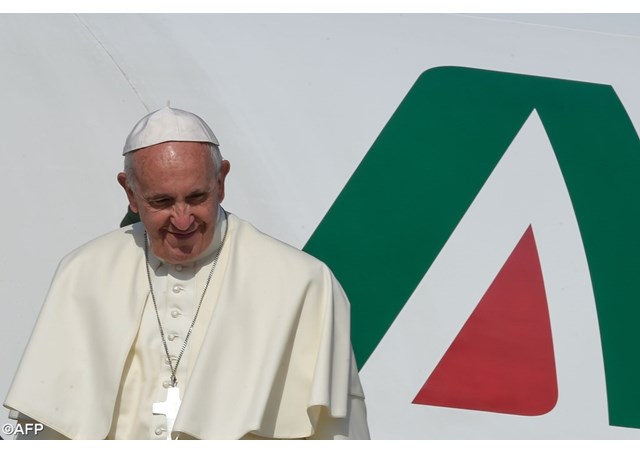 (Vatican Radio) The Vatican on Monday published the programme for Pope Francis' visit to Georgia and Azerbaijan which will take place from September 30th to October 2nd . The pastoral journey follows on from his recent visit to Armenia in June, during which the Pope appealed for peace and full religious freedom throughout the Caucuses region.
The three day journey begins in the Georgian capital Tbilisi, where the Pope arrives at 3pm local time for a welcome ceremony. He then travels to the Presidential palace for  a courtesy meeting with President Giorgi Margvelashvili, followed by an encounter with diplomats, government and civil society representatives. Later in the day, the Pope will visit the Patriarchal Palace in Tbilisi to meet with the Catholicos or leader of the Orthodox Church in Georgia, Patriarch Elias II, and then go on to greet the Assyrian Chaldean community in the church of St Simon the Tanner.
The following day, Saturday, October 1st  Pope Francis will celebrate Mass in the multi-purpose Mikheil Meskhi stadium in Tbilisi, named after one of the country's most famous football players. He will then meet with priests and religious in the Church of the Assumption, followed by an encounter with charity workers and members of the communities they serve outside an aid centre run by the Camillian order. Finally the Pope will visit the Svietyskhoveli Patriarchal Cathedral in the ancient city of Mskheta, the birthplace of Christianity in the country, located about 12 miles north of the capital.
Early on Sunday, October 2nd the Pope will travel to Tbilisi airport for a farewell ceremony and will leave for Baku, the capital of Azerbaijan, where he is due to arrive at 9.30 am. Following a brief welcome there, he will celebrate Mass at the Salesian centre in Baku and have lunch with the Salesian community there. In the afternoon, he will attend an official welcome ceremony in the presidential palace and pay a courtesy visit to President Ilham Aliyev, before going on to greet government officials in the Heydar Aliyev Centre. After that the Pope will have a private meeting with the Sheikh of the Muslims of the Caucasus in the Heydar Aliyev Mosque, and also meet the Orthodox bishop of Baku and the president of the Jewish community. At 7.15 p.m., following a farewell ceremony, Pope Francis will leave for Rome's Ciampino airport, where he is expected to arrive at 10 pm.