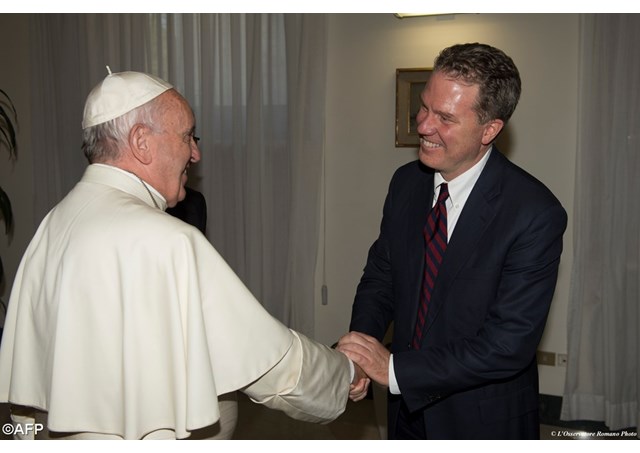 (Vatican Radio) Greg Burke is thrilled, excited and also a little daunted by the task and responsibilities that lie ahead in his new position as Director of the Holy See Press Office.
Burke will take over from Jesuit Father Federico Lombardi on August 1. 
Before being appointed as vice-director at the Holy See Press Office in January, the 56-year-old Greg Burke was senior communications adviser of the Vatican's Secretariat of State.
He was formerly a correspondent for the Fox News Channel, and for Time Magazine, based in Rome. 
Speaking to Vatican Radio's Alessandro Gisotti shortly after the announcement on Monday,  Burke noted that the choice of an Anglophone heading the Press Office makes perfect sense if you are aiming for a global outreach. 
And commenting on the appointment of Spanish journalist, Paloma Garcia Ovejero as Press Office Vice-Director, Burke pointed out that half the Catholic world speaks Spanish.
Listen to the interview:


 
Reacting with excitement for the recognition he has just received Greg Burke says that the importance of the job at hand is such that it is even "a little bit scary"; but he continues, he is totally honoured by the trust the Pope has shown in him. 
Regarding the fact that two laypeople have been chosen to head the Holy See Press Office – one of them a woman – Burke says "the word of the day is international".
"Obviously Italian is the language of the Curia, it's the working language and that's important, but in terms of reaching the Catholic audience - about half of the Catholic world is Spanish-speaking - and if you want to reach the globe: English is key" he says.
So, he concedes, "two laypeople, two foreigners if you will; but foreigners who know their way around here. The fact that Paloma also comes from the working press corps – up until yesterday she was still doing radio reports – is a really good sign."
Burke concludes speaking of having to step into the shoes of Fr Lombardi, Burke says that too is somewhat daunting.
He explains that he worked with Lombardi for 3 and a half years when he was at the Secretariat of State and Lombardi was at the Press Office, and then even more closely in the last six months.
"I can't say enough good things about his virtues: patience, total dedication, generosity and kindness and just an absolute fidelity to the Pope and I think that's a great lesson for me!" he says.