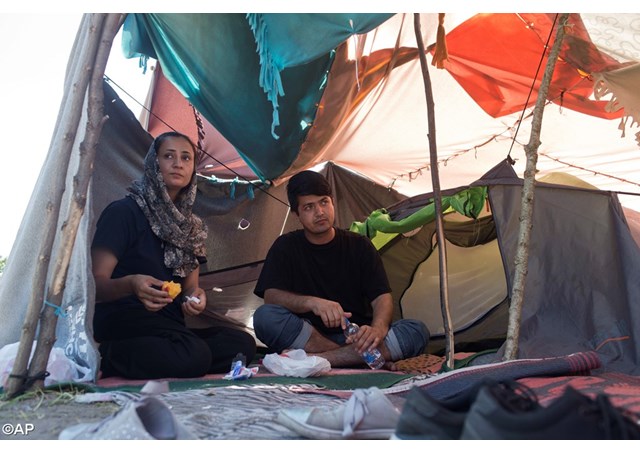 (Vatican Radio) The United Nations refugee agency UNHCR has condemned Hungary for sending thousands of additional security forces to its southern border with Serbia who are pushing back migrants fleeing war and poverty. 
An increasing number of people are already stuck in what the U.N. calls dire conditions at the Serbia-Hungary border as Hungary blocked their entry. 
Listen to the report by Stefan Bos:

Hungary's government says as many as 10,000 police and soldiers are trying to completely seal the southern border with Serbia. 
New measures backed by Hungary's anti-migration Prime Minister Viktor Orbán allow Hungarian forces to return to Serbia all migrants regardless of their background if they are detained within 8 kilometers from the border. 
The prime minister's chief of staff János Lázár defended these policies. Stopping illegal migration is a key issue for Hungary. Not just because by doing so we are protecting Europe but because first and foremost we are protecting ourselves. And we are convinced and this conviction brings us to this: No one can enter Hungary without an identity check. Only those people 
can stay in Hungary whom the country allows in across its border and grants permission  to stay.
HUMAN SUFFERING   
Serbia has accused Hungary of breaching international law by returning migrants fleeing war and poverty. And the United Nations refugee agency UNHCR says the measures led to human suffering with up to 1,300 people stuck at the Serbia-Hungary border, many without shelter and sanitation. 
On Thursday a 10-year-old Afghan boy died in a drowning accident nearby, while earlier a Syrian young man reportedly drowned after he and others were pushed back into a river by Hungarian police. 
UNHCR spokesman Babar Baloch told Vatican Radio that many desperate people still try to breach Hungary's razor wire border fence. "This restrictive policy is pushing refugees to give themselves up to human and people traffickers smugglers. 
And the evidence is there. Everyday we see about 100 refugees trying to irregularly access asylum in Hungary as they come through the fence," he said.  
Hungary's prime minister's office admitted to Vatican Radio more than 23,000 asylum seekers had applied for asylum in Hungary this year alone, many of them after arriving through Serbia illegally.  
REFUGEES WAITING 
 
Relative few people receive asylum: some 400,000 migrants crossed Hungary last year from which only some 500 people received some kind of international protection here.  
Refugees stuck in Serbia say they have no other choice as they still seek to reach Western Europe. Some guys tried nine, ten times or five times. And I tried two times. But we have failed and we don't have any other choice. And we are thinking what should we do?
Fearing a new wave of migrants from Hungary, neighboring Austria installed new border controls, prompting an angry reaction from Hungary's government which introduced similar measures. 
Despite the tensions, Austria's far-right and anti-migration presidential candidate Norbert Hofer has said he does not want his country to leave the European Union, apparently softening his position on a future referendum. 
Hofer is aiming to win a rerun of the presidential vote on October 2 after his Freedom Party won a court challenge over voting irregularities.