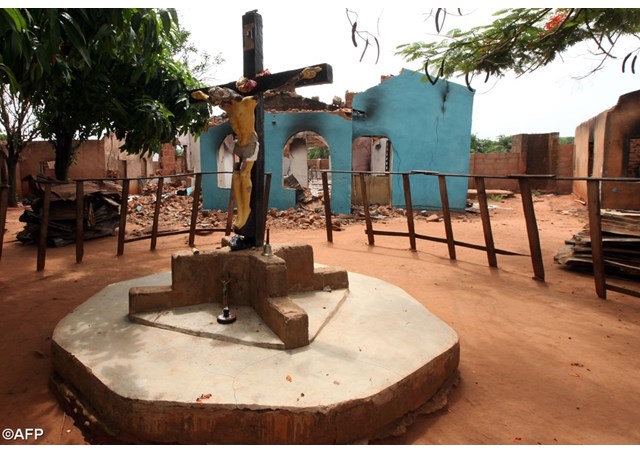 Over the weekend, Catholic communities in Nigeria's Enugu, Awgu and Nsukka Dioceses have held simultaneous peaceful processions and prayers to protest growing violent activities and killings attributed to Fulani herdsmen in their areas.
Nigerian media quoted the Bishop of  Enugu Diocese, Callistus Valentine Onaga calling upon the federal and state governments to put in place adequate security measures and protect innocent lives.
Nigeria's Sun news online reports that the Catholic faithful in Enugu braved morning rains to join the procession which culminated in prayers at the Holy Ghost Cathedral. At the Cathedral, Bishop Onaga read a pastoral statement co-authored with his two brother-Bishops of Awgu and Nsukka Dioceses.
"For decades our people here in Enugu State – a peaceful and God-fearing population of predominantly peasant farmers, traders and civil servants – have played hosts, not without some difficulties, to a succession of Fulani herdsmen and their Cattle in various parts of the state," Bishop Onaga said. He added, "In the past few years, however, this relationship has become increasingly problematic as the herdsmen turned aggressive, disrespectful and destructive in their activities," the Bishop said as he read from the pastoral statement.
In attendance, at the Cathedral of the Holy Ghost was the Enugu State Governor, Ifeanyi Ugwuanyi together with all the state' security chiefs.
The Governor called on the faithful gathered to remain law abiding, assuring that government was doing all it can to ensure a climate of peaceful co-existence among the people of the state.
In Awgu Diocese, the faithful numbering over 10,000 marched from the St Michaels Catholic Cathedral, Awgu to the headquarters of Awgu Local Government Council where they were addressed by political and Church leaders.
In Nsukka Diocese, the faithful began their peaceful procession from St. Theresa's Cathedral to the local government headquarters with many onlookers joining them. Most shops and public buildings were closed.
Early last month, Nigerian media reported that as many as 50 residents of Nimbo in Uzo-Uwani local Government Area, Enugu State were killed by suspected Fulani herdsmen. A March 2016 attack in Agatu, Benue State left more than 100 people dead.
Nigeria still reeling from the Boko Haram insurgency is watching nervously if the attacks signal the emergence of yet another militia group with an Islamist ideology.  
Increased desertification of the common nomadic grazing lands of the nomadic Fulani tribes in the north of Nigeria are leading them southwards. As the Fulani herdsmen push farther south in search of new pasture and water for their cattle, they have become increasingly violent towards local communities encountered. The use of sophisticated military weapons by the herdsmen is escalating the conflict with deadly consequences. 
(engafrica@vatiradio.va)