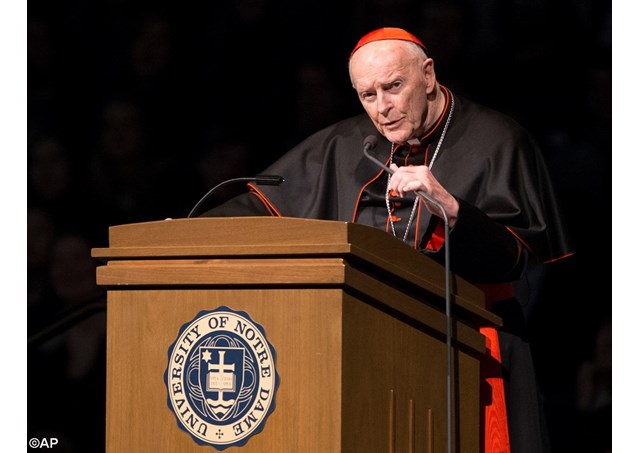 (Vatican Radio)  Cardinal Theodore E. McCarrick, Archbishop Emeritus of Washington, has long been an advocate for social justice issues, especially on behalf of the poor. So it was with enthusiasm that he agreed to participate in the Impact Investing Conference 2016, saying impact investing is 'a great new way to help the poor'.
The three day conference – hosted by the Pontifical Council for Justice and Peace, in conjunction with Catholic Relief Services – is taking place from 26-28 June, with key business experts and Catholic leaders from around the world exploring ways to harness the power of impact capital to sustain the Catholic Church's social mission.
Impact investing is a form of investment made into companies or organizations with the goal of providing social benefit to those in need, whilst providing a financial return to the investor.
In an interview with Devin Watkins, Cardinal McCarrick spoke about the delight he experiences in retirement when new ways are found to help the poor.
Listen to the full interview:
Cardinal Theodore McCarrick retired in 2006 from the helm of the Archdiocese of Washington, but he said finding new ways to help the poor gives him consolation in retirement.
"Sometimes during retirement you come into these very interesting moments like this. This whole idea of finding a new way to help the poor, to find a new way to get all the interesting insights that we've developed over the years to people who have a great desire to be what the Lord is asking us to be, and to have the wisdom to find out about it and do it."
People express God's love to the poor
The Cardinal said the final goal of such initiatives is to help the poor experience God's love through the care of other people.
"This is a new way of trying to bring into the life of the poor the wonderful things that they need to survive, to realize God's love, and to realize that, through God's love, they are loved by a lot of other people."
This is the second installment of the Vatican Impact Investment Conference and seeks to build on two years of on-the-ground experience.
"We had a meeting two years ago with some very fine and challenging talks, and now we've had a chance to think about it and to test some things out."
'Do more!'
Cardinal McCarrick said Pope Francis has been a guiding inspiration for finding new ways to reach out to the poor.
"The idea [for the conference] sprang up from six or seven different sources, but everyone under the tutelage of this Holy Father."
"He is the one who keeps saying, 'Do more! Do more!', and if we say, 'How can I do more?', the Lord puts these ideas into our heads so we see different ways to do more. And that's a great blessing."