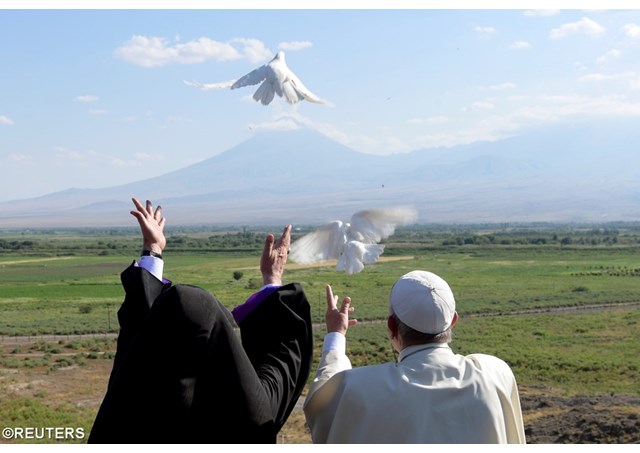 (Vatican Radio) Pope Francis ended his three day Apostolic journey to Armenia, his 14th abroad with a visit to 'Khor Virap' monastery at the foot of  Mount Ararat. A significant site linked to the conversion of  this nation to Christianity.
Veronica Scarisbrick reports:
The red brick monastery of Khor Virap at the foot of Mount Ararat where tradition holds that Noah's ark came to rest after the floods is one of Armenia's most sacred sites. It's here that the most memorable image of Pope Francis's visit to Armenia played out.
That of the Pope and the Patriarch standing out against the skyline in unison in the shadow of the snow-capped Mount, as together they release two white doves which flutter into the evening light before soaring up high. A striking gesture which holds within it a symbol of unity and peace.
By contrast the name of the monastery provides a sinking feeling as it means 'deep dungeon'. And while dark and musty dungeons really exist here, some sinking deep into the ground, over six metres under one of the Chapels of the monastery complex, what really matters is that it was in one of these dungeons, often referred to as a well, that Saint Gregory the Illuminator, was held prisoner for thirteen lonng years before bringing about the conversion of the King in 301, so at the beginning of the fourth century. A conversion which led to Armenia becoming the first nation ever to adopt Christianity as a State religion.
And a conversion which was no doubt on the Pope's mind as together with the Patriarch he made his way up two narrow flights of stairs to the room known as the 'Well of Saint Gregory'. They were there  to light a candle before making their way to the nearby Chapel to pray: the Patriarch in Armenian and the Pope in Italian.
Before leaving this land which Pope Francis has described as 'beloved' he  expressed the idea that it was a grace to find himself on these heights where, beneath the gaze of Mount Ararat, the very silence seems to speak.  And where the 'khatchkar' – the stone crosses – recount a singular history bound up with rugged faith and immense suffering. A history, he went on to say, replete with magnificent testimonies to the Gospel, to which you the Armenian people are heirs.
Words pronounced a day earlier when he had symbolically watered, once again together with the Patriarch, the seedlings of a vine in a model of Noah's Ark. New life that grows out of memory.