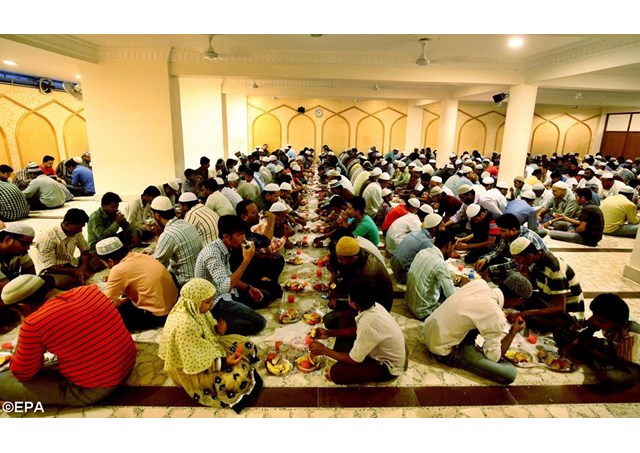 (Vatican Radio) In Sharjah, the St Michael's Catholic Church on Wednesday hosted iftar, the meal eaten by Muslims after sunset during Ramadan, for some 500 labourers and other guests for the first time in its decades-long history.
Parish Priest Father Varghese Chempoly said: "We wanted to show the spirit of unity and brotherhood practised in the UAE. Our prayer is to protect this country and guide its leaders. We also took the iftar initiative in line with the declaration of Pope Francis of 2016 as the Year of Mercy."
He added that another inspiration behind the iftar was the parish youth who reach out to the poor every Ramadan. Fr. Wissam Al Massadeh, assistant priest at St. Michael's Church, took an initiative to send youth to traffic signals every day at 6 pm to distribute dates and water to the motorists.  Many of them were very pleased to know that it was an initiative of the Catholic Church.
"We're so happy to welcome our Muslim brethren for iftar," said Fr. Varghese. "For most of the workers, who came from different labour accommodations, it was their first time in a church," he added.
"It is doubly a new experience for me as I've never been to a church before and never had iftar as a guest of another faith. I'm so honoured to be here today and their hospitality is lovely," said Abdul Razak, 25, a welder from India.
Vijay Varghese, a parishioner who has been regularly going to the church for 20 years, said "the response to the iftar was 'tremendous'. This invite to the church has been received so well, it shows the spirit of togetherness of the UAE."
Religious figures spoke on interfaith harmony shortly before iftar. The guests also received gift bags after iftar.
There have also been reports of the Sikh and the Hindu communities in the Gulf nation, hosting the 'iftar' during Ramadan to demonstrate the spirit of tolerance and peaceful coexistence in the country. Religious leaders of different faiths have praised the UAE leadership and community for nurturing an environment where diversity is respected and welcomed.
(Gulf News Society)