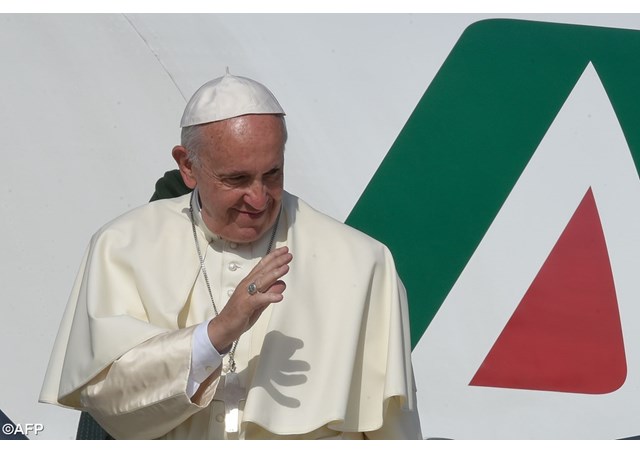 (Vatican Radio)  Pope Francis is on his way to Armenia, the "first Christian nation," for a three day pastoral visit.  The journey to the former Soviet Caucasus region will be the Pope's 14th  foreign trip as pontiff. 
He will return to the area again in September for visits to Georgia and Azerbaijan. The focus of the visit will be to consolidate ecumenical relations with the Armenian Apostolic Church, to encourage the small, local minority Catholic Church, and to show the Pope's closeness to Armenian Christians who historically, suffered periods of persecution and massacres.
Francis departed Rome's Fiumicino airport shortly before 9.30 am; he is due to arrive in four hours' time at 'Zvartnots' international airport in Yerevan, at around 15:00 local time (12:00 GMT). Following the airport welcoming ceremony with local dignitaries, the Pope will pray at the apostolic Cathedral in Etchmiadzin. For the duration of his visit, Pope Francis will reside at the Apostolic Palace, seat of the Supreme Patriarch (Catholicos) of All Armenians, Karekin II.
Pope Francis will pay a courtesy visit Friday to the President of the Republic Serzh Sargsyan in the Presidential Palace in Yerevan, where he will meet with national and civil authorities and members of the diplomatic corps. Later, the Pope will meet privately with the Catholicos Karekin II in the Apostolic Palace of Etchmiadzin.
As is his tradition, on the eve of his trip, Pope Francis went in private to the Basilica of Santa Maria Maggiore Thursday evening, where he remained in prayer before the image of Our Lady, Salus Populi Romani, asking her to bless his visit to Armenia. As in prior visits to the Marian shrine, the Pope laid flowers on the altar in homage to the Blessed Virgin Mary.