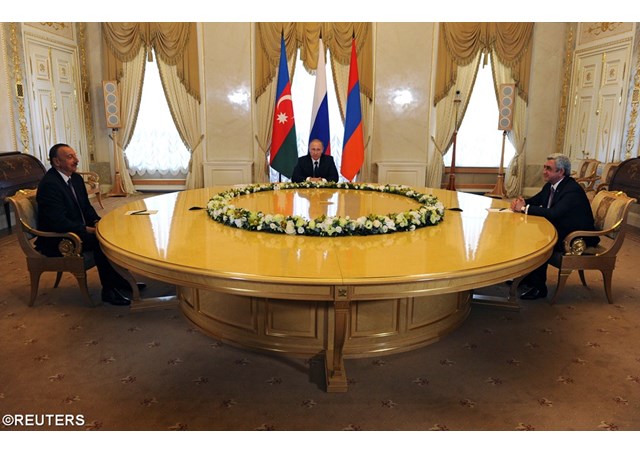 (Vatican Radio) As Pope Francis prepares to visit the region, the leaders of Armenia and Azerbaijan have confirmed their readiness to seek a peaceful solution to their conflict over the Nagorno-Karabakh region. Their remarks followed talks Monday that were hosted by Russian President Vladimir Putin. 
Azerbaijani President Ilham Aliyev and Armenian President Serzh Sarkisian made clear they want to finally end years of conflict over Azerbaijan's breakaway region of Nagorno-Karabakh.
As part of that effort, both men said that they had agreed to increase the number of international observers in the battle zone.
They made the announcement in a statement issued by the Kremlin following talks in the Russian city of St. Petersburg.  
Listen to the report by Stefan Bos:
Russian President Putin oversaw the talks, the second meeting between Aliyev and Sarkisian since a new truce was established in early April. That ceasefire followed four days of fighting around Nagorno-Karabakh between Azerbaijan's military and Armenia-backed separatists.
SCORES KILLED
At least some 75 soldiers reportedly died in what was one of the worst outbreaks of violence since a full-scale war ended in 1994. 
The sides have now expressed satisfaction that the cease-fire appears to be holding. That is welcome news for those organizing the 
trips of Pope Francis to Armenia and, later this year, to neighboring Azerbaijan. 
Nagorno-Karabakh is officially part of Azerbaijan, but since a separatist war ended in 1994 it has been under the control of forces that claim to be local ethnic Armenians. Azerbaijan claims they include regular Armenian military.
A lasting peace can't come soon enough for the people in the region: Already up to 30,000 people were killed in a bloody war the two sides fought from 1988 to 1994 over Nagorno-Karabakh, and there were allegations of human rights abuses by both countries.