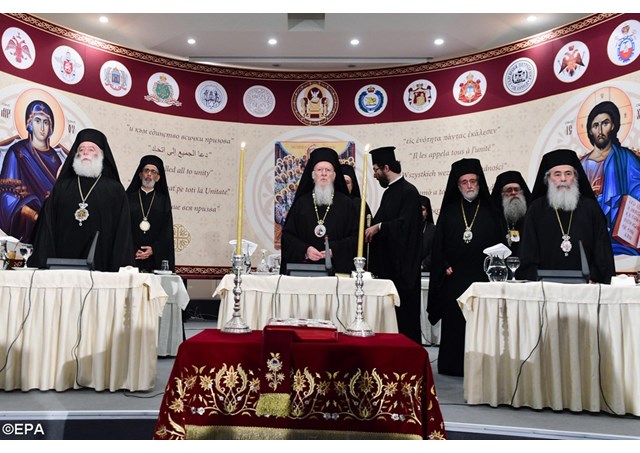 (Vatican Radio) The opening session of the long awaited pan-Orthodox Council took place on Monday on the Greek island of Crete, led by Ecumenical Patriarch Bartholomew 1st.
Preparations for the 'Holy and Great Council of the Orthodox Church' have been in the works for more than 50 years, but the meeting has been overshadowed by the last minute decision of four Church leaders to stay away from the week long meeting.
Despite these difficulties, Patriarch Bartholomew hailed the significance of the Council in his opening address, as our correspondent at the meeting Nicolas Papachristou reports:
Listen: 
Among the representatives of the other Christian Churches present at the opening session of the Council today was the head of the Pontifical Council for Promoting Christian Unity, Cardinal Kurt Koch, who is leading a delegation from the Holy See. He shared  his impressions of the opening session, saying the meeting is a very important event that can deepen the relationship between the local Orthodox Churches, but he says he hopes it can also lead to a strengthening of relations with the Catholic Church.
The cardinal recalls how Pope Francis, in Evangelii Gaudium, speaks of the gifts that Catholics can receive from other Christian Churches, in particular the synodality of the Orthodox Church. 
He notes that the main issues of discussion between Catholics and Orthodox are centred on primacy and synodality, adding that he hopes there will be progress made at the next plenary session of the joint international commission for Catholic-Orthodox dialogue to be held in Italy in September