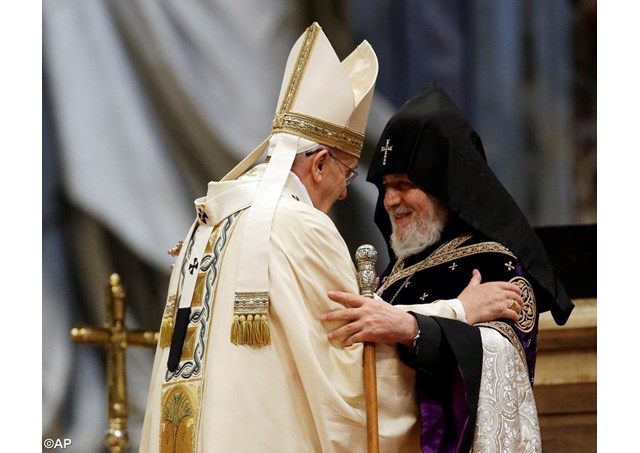 (Vatican Radio) In a week's time Pope Francis travels to Armenia. Please find below the official programme for Pope Francis' 3-day visit to Armenia  from Friday 24th to 26th of June.  (all times are local)
Friday 24th June
09.00 Departure from Rome's Fiumicino Airport for Yerevan
15.00 Arrival at Yereven's Zvaretnots Airport with welcome ceremony there.
15.35 Visit to pray at Apostolic Cathedral at Etchmiadzin (Greetings given by Catholicos of All Armenia, Karekin II and by Pope Francis)
18.00 Courtesy visit to Armenia's President in the Presidential Palace.
18.30 Meeting with civil authorities and the Diplomatic Corps in the Presidential Palace (speech by the Pope)
19.30 Private meeting with Catholicos in the Apostolic Palace
Saturday 25th June
08.45 Visit to Tzitzernakaberd Memorial Complex
10.00 Journey by plane to Gyumri
11.00 Holy Mass in Gyumri's Vartanants Square (Homily By the Pope and greeting by Catholicos)
16.45 Visit to the Armenian Apostolic Cathedral of the Seven Wounds 
17.15 Visit to the Holy Martyrs Armenian Catholic Cathedral in Gyumri
18.00 Journey by plane back to Yerevan
19.00 Ecumenical Encounter and Prayer for Peace in Yerevan's Republic Square
Sunday 26th June
09.15 Meeting with Catholic Bishops of Armenia in the Apostolic Palace at Etchmiadzin
10.00 Participation in Divine Liturgy in the Armenian Apostolic Cathedral (Homily by Catholicos and greeting by the Pope)
Ecumenical Lunch with the Catholicos, Archbishops and Bishops of the Armenian Apostolic Church, Catholic Bishops of Armenia and Cardinals and Bishops from the Papal entourage in the Apostolic Palace.
15.00 Meeting with delegates and benefactors of the Apostolic Armenian Church in the Apostolic Palace
16.05 Signing of Joint Declaration in the Apostolic Palace
17.00 Prayer at Khor Virap Monastery
18.15 Farewell Ceremony at airport
18.30 Departure by plane for Rome
20.40 Arrival at Rome's Ciampino Airport