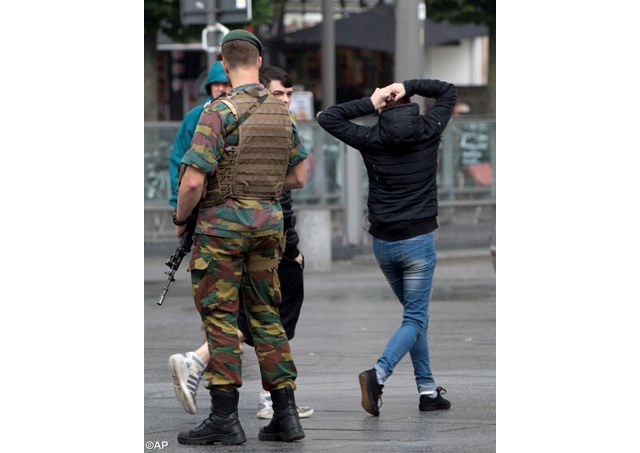 (Vatican Radio) Belgian police have raided dozens of homes and detained 12 people for allegedly preparing new terror attacks in the country during at least one of Belgium's matches at the ongoing European Football Championship. Belgium's Prime Minister Charles Michel urged the people to remain calm at a time when the nation still deals with the aftermath of recent terror attacks which killed dozens of civilians.
Listen to Stefan Bos' report:
 
As people in Belgium planned massive parties Saturday to watch live broadcasts of the country's football team playing Ireland, police forces rushed into action. Authorities said one or more attacks were feared including in the capital Brussels, during one of Belgium's Euro 2016 football matches. 

The federal prosecutor's office said that homes and car ports were searched overnight in 16 municipalities, mostly in and around Brussels. It explained that 40 people were taken for interrogation, of which 12 were arrested. A judge was to rule on their continued detention later Saturday.

At a hastily organized press conference following the raids, Belgium's Prime Minister Charles Michel urged his nation to remain calm. He said the terror level across the nation would remain at the second-highest level, meaning a threat of an attack "is possible and likely."

EXTREMELY VIGILANT

The prime minister made clear that Belgium must remain "extremely vigilant, hour by hour" and that special security measures have been introduced. "I also want to convey a message of calmness as we can observe that our security forces have reached results in their investigations," he added.       

News of the latest imminent terror threat however comes at a sensitive time for Belgium.

The European Union country is still trying to overcome the devastation of the March suicide bombings in Brussels, that killed 32 people at its main airport and in a subway metro station.

The Islamic State group claimed responsibility for the violence in Brussels, which hosts the headquarters of the European Union and the NATO military alliance.