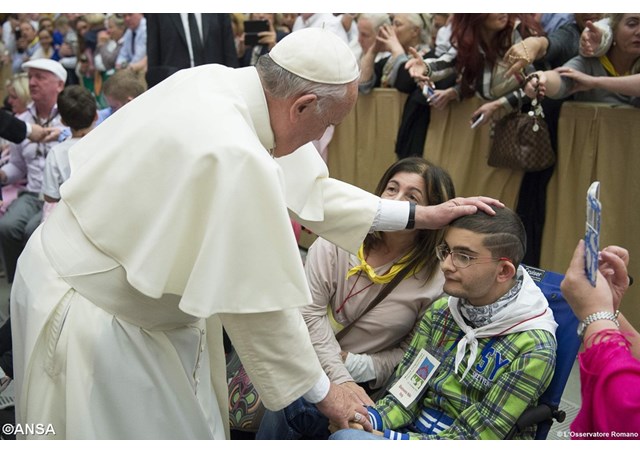 (Vatican Radio) Two events will take place in Rome next week looking at the value of disabled people in culture and in the study of theology.
The Vatican 's Pontifical Council for Culture along with the Kairos Forum will be sponsoring an academic symposium and a conference entitled, Living Fully 2016.
The aim of both these gatherings is to celebrate the lives and stories of disabled people within culture and faith and introduces the study of disability theology from within a cultural perspective.
This celebration of disability follows a highly successful Jubilee for the Sick and the Disabled that also took place in Rome recently, in which Pope Francis championed the importance of diversity and inclusion.
Cristina Gangemi, is a disability advisor to the Bishops Conference of England and Wales and the Director of the Kairos Forum which seeks to highlight and respond to the spiritual and religious needs of people with disabilities.
She will be participating in both events and spoke to Lydia O'Kane about why it was important to have the symposium and conference at this time in Rome.
Listen to the interview
"It just seemed that it was time here in Rome to put some sort of event on that gathered the stories and noted the stories and experiences of other people all over the world that have been doing very similar activities and similar things in their own countries", she said.
She added, "it really is time, I think, for the Catholic Church to put its teaching on the human person on the stage and celebrate it, but do that through the lens of the life and the personhood of disabled people."
Cristina also underlined that for those working in the field of disability theology including herself, this has been a time of rediscovering just how amazing Jesus was. "When we look at how Jesus approached disability, he excluded nobody, he treated them no differently to anybody else and his whole ministry every single day, instead of leaving disabled people on the side of the road…he embraced them, met them, talked with them, asked them what they wanted and transformed their lives in exactly the same way he did everybody else".
During these Rome events a charter for change will be given to each delegate, who will in turn take it's inspiring message of belonging, value and welcome, back to their own country.
Living Fully 2016; Embracing the gifts of all people, especially people who live with Disability runs from the 23rd to the 26th June.