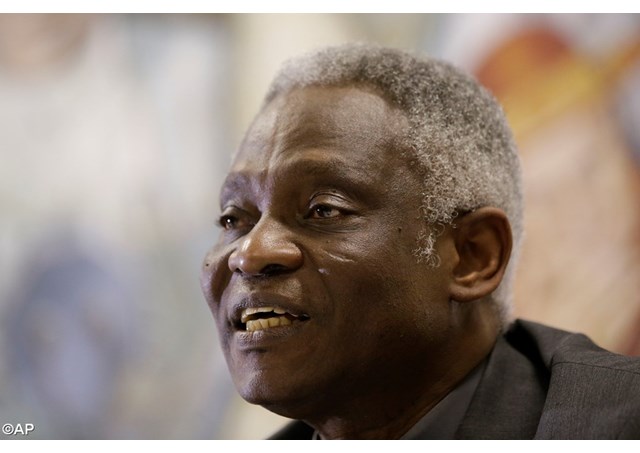 (Vatican Radio) Responding to Pope Francis' call to make business and wealth work for the poor,  a Vatican Conference will explore ways of investing to generate beneficial social effects in addition to financial gain.
The Conference on 'Impact Investing' – which actively seeks to make a positive impact by investing, for example, in non-profits that benefit the community or in clean technology enterprises  - will take place in Rome between the 26 and 28 June under the auspices of the Pontifical Council for Justice and Peace and Catholic Relief Services.
Please find below the press release for the event:
 
                                                                                Second Vatican Conference on Impact Investing
                                              Church and Business Leaders Respond to Pope Francis' Call to Make Wealth Work for the Poor
At the invitation of the Pontifical Council for Justice and Peace and Catholic Relief Services, impact investing experts and Catholic leaders from around the world will convene in Rome to explore how the Catholic Church and other faith-based institutions can harness the power of impact capital to attain and sustain their social mission.  
These Church institutions, at an early stage in their social enterprise journey, will interact with and learn from successful social entrepreneurs, along with thought leaders from the sector. They will develop strategies, form partnerships and lay the foundation for catalyzing private investment to serve the poor and vulnerable. Celebrating the Extraordinary Year of Mercy established by Pope Francis, the conference is titled Making the Year of Mercy a Year of Impact for the Poor.
The conference, which begins on June 26, 2016, is sponsored by Omidyar Network and the Mendoza College of Business at the University of Notre Dame. It ends on June 28.
The conference will respond to Pope Francis' call to put the world's wealth to work fighting poverty and fostering social change as it explores how  the Catholic Church and other faith-based organizations can achieve their social missions by accessing private capital and forging new partnerships. Participants will engage with business, finance, academic and social enterprise leaders to learn how to make social enterprises attractive to impact investors. 
Cardinal Turkson, president of the Pontifical Council for Justice and Peace, quoted Pope Francis speaking at the Church's first impact investment conference in 2014, "It is important that ethics once again plays its due part in the world of finance and that markets serve the interests of peoples and the common good of humanity.  We have a great opportunity to harness the extensive reach of the Church as well as a great responsibility to assure that as a result the poorest of our brothers and sisters are lifted by this tide and not left on the shore."
"Worldwide reach and vast social service networks put the Catholic Church in an ideal position to take impact investing to the next level," said Dr. Carolyn Y. Woo, president and CEO of Catholic Relief Services and the former dean of the Mendoza School. "We will need much more than philanthropic resources if we are going to break the cycle of poverty that keeps millions living on the margins. The Church is in an ideal position to mediate this new model that is using private capital to meet these very public needs in sustainable and productive ways." 
There is growth both in the amount of capital seeking quality social enterprises and the number of businesses that make real social impact alongside monetary returns. The Catholic Church, with its long track record in sustained social services—education, health, poverty alleviation—is an ideal home for such work. 
One challenge will be transforming the Church's charity-supported social missions into social enterprises that can attract impact investments. The model of impact investment is a new concept for many leaders in the Catholic Church. To that end, this conference will be preceded by a two-day, pre-conference workshop for high level-leaders from Catholic Conferences around the world who have management and financial responsibilities for social services in their regions.  The workshop will enable these leaders to explore when and how they can employ a market-based model to attain and sustain their social mission.
Woo noted that successful impact investments need to be in enterprises that are both sustainable and able to grow to a scale that can have a large social impact.
Matt Bannick, managing partner of Omidyar Network, agreed. "In Omidyar Network's twelve years of impact investing, we have found that leveraging the power of markets can help scale enterprises far faster than purely philanthropic endeavors. Our experience supporting enterprises across a broad array of sectors – from financial services to education to property rights – demonstrates that it is possible to achieve social impact alongside financial returns," he said. "The Catholic Church's commitment to impact investing is a pivotal moment for the field, as it not only brings new financial resources to bear on solving the world's most intractable problems, but it sends a powerful message that impact investing is an effective tool to support the ethical and moral mission of the Church. We applaud the Church for its leadership in this regard."
"The impact investment market is growing, and research suggests it could reach $400 billion by 2020. Today, impact investing is generally composed of private capital that complements public resources and charitable donations to foster social justice while tackling global challenges including sustainable agriculture, affordable housing, accessible health care, and quality education," said Roger D. Huang, Martin J. Gillen Dean of the Mendoza College of Business at the University of Notre Dame.  
CRS has committed to investing 5 percent of its reserves in an impact investment fund.