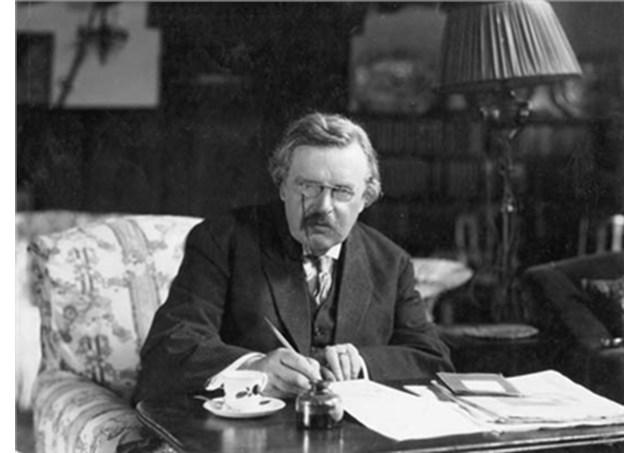 (Vatican Radio) Chesterton & Eugenics: the challenge of our time, is the focus of an international conference exploring this major theme of the great 20th century English journalist and cultural critic, Gilbert Keith Chesterton, which opened Friday, June 10th, on the island of Malta. The conference is being organized by the Chesterton Institute for Faith & Culture at Seton Hall University in West Orange, New Jersey, USA, and Malta's own Life Network Foundation.
The President of the Chesterton Institute at Seton Hall and editor of the Chesterton Review, Fr. Ian Boyd, CSB, is among the featured speakers at the event, along with his Seton Hall colleague and friend, Prof. Dermot Quinn.
Fr. Boyd and Prof. Quinn visited Vatican Radio ahead of the conference, and spoke with us about the conference's theme, explaining in a nearly hour-long conversation with Chris Altieri how Chesterton's understanding of the threat of the eugenic movement was profound, far-sighted, and even prophetic.
"Eugenics] does sound nice," said Prof. Quinn, examining the Greek root of the English word, which means literally "good birth" but that refers to the program of selective breeding and more broadly to the coercive social policy to implement such a program. "It's not," he continued, "and I think, that's probably the theme of our conference and in many ways the theme of the Chesterton institue: to try to explore the ugly aspect of something that seems rather attractive."
"A great deal of what's wrong in the modern world," Fr. Boyd explained, citing George Orwell (who wrote early in his career for G.K.'s Weekly, a periodical publication Chesterton wrote from 1925 until his death in 1936), "is the use of euphemism that we find: of course, 'eugenics' was an example of it - a beautiful word for an ugly thing."
Click below to hear their extended conversation
Chesterton led a campaign against a proposed law in the UK - the The Mental Deficiency Act 1913, an act of Parliament of the United Kingdom that sought to provide for the institutional treatment of people deemed "feeble-minded" and "moral[ly] defective" - which some eugenics proponents argued ought to have contained compulsory sterilization and other provisions that were highly controversial at the time. The bill passed and became law, though without the provisions Chesterton considered most offensive. 
Fr. Boyd and Prof. Quinn both warn that, in our day, policies and programs once rejected as inhuman are making their way - have already made their way - into law and gained social acceptability in many countries.