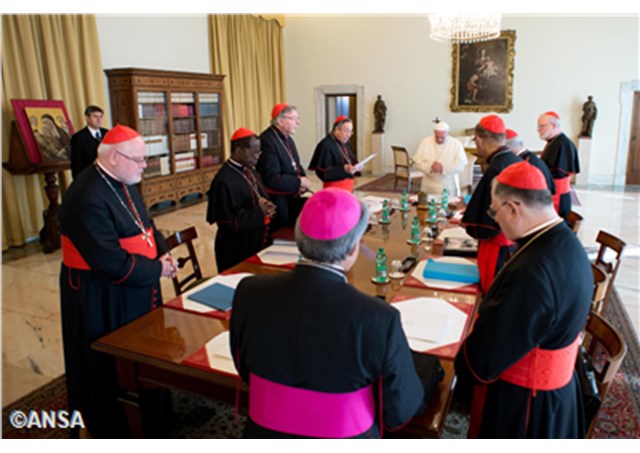 (Vatican Radio) The Council of Cardinals concluded three days of meetings in the Vatican on Wednesday, continuing their discussions on the ongoing reform of the different Vatican offices and institutions. The head of the Holy See Press Office, Fr Federico Lombardi briefed journalists on the contents of the meetings, noting that Pope Francis was present for most of the time with the nine cardinals in the group.
Fr Lombardi said a large part of the consultations was dedicated to discussing the reforms regarding the Secretariat of State, the Congregations for Catholic Education, for Oriental Churches, for the Clergy and for Bishops, as well as the Pontifical Councils for Culture, for Christian Unity and for Interreligious Dialogue.
He also noted that the results of previous consultations regarding the Congregations for the Doctrine of the Faith, for Worship and the Sacraments, for the Causes of Saints and for Consecrated Life, as well as the new Charity, Justice and Peace office, have been handed over to Pope Francis for his deliberations.
Fr Lombardi said that the reforms were focused on the criteria of simplifying and harmonizing the work of the different offices, as well as exploring ways of decentralizing tasks to the different bishops conferences.
Finally he noted that Cardinal Reinhard Marx and Cardinal George Pell discussed questions relating to the Council and the Secretariat for the Economy, while Mgr Dario Viganò reported on the continuing reform of the Vatican media offices, especially the process of integrating Vatican Radio and the Vatican Television Centre which is taking place this year.
The next meetings of the C9 group of cardinals are scheduled to take place on September 12th, 13th and 14th and December 12th, 13th and 14th.