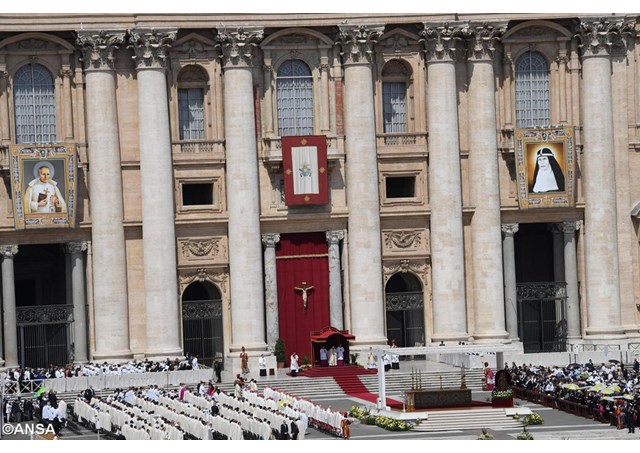 (Vatican Radio) Pope Francis celebrated Mass on Sunday morning in St. Peter's Square during the course of which he canonized two new Saints: Stanislaus of Jesus and Mary Papczyński, and Mary Elizabeth Hesselblad.
St. Stanislaus was born and baptized Jan Papczyński in Poland in 1631 and was ordained a priest while in the Piarist congregation, which he left to found the Marians of the Immaculate Conception.
Click below to hear our report
St. Mary Elizabeth Hesselblad was a Swedish-born convert to Catholicism who re-founded the Order of St. Bridget (Patron of Sweden and original foundress of the order of religious women that took her name and followed – follows her charism) in the early 20th century.
In the homily he prepared for the occasion and delivered Sunday morning before a crowd of some 40 thousand faithful, Pope Francis praised the two new saints as outstanding models of Christian faith and faithful perseverance in the face of trial. "In the Passion of Christ, we find God's response to the desperate and at times indignant cry that the experience of pain and death evokes in us," said Pope Francis. "He tells us that we cannot flee from the Cross, but must remain at its foot, as Our Lady did."
"In suffering with Jesus," the Holy Father went on to say, "she received the grace of hoping against all hope. (cf. Rom 4:18)"
"This," he continued, "was the experience of Stanislaus of Jesus and Mary, and Maria Elizabeth Hesselblad."
"They remained deeply united to the passion of Jesus," he said, "and in them the power of His resurrection was revealed."