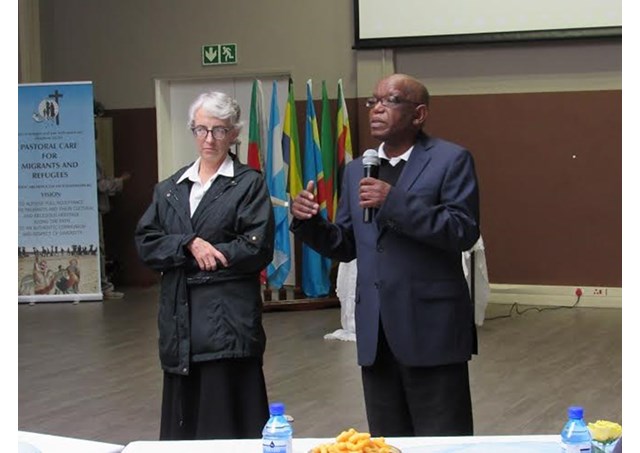 The Scalabrini Institute for Human Mobility in Africa (SIHMA) reports that a roundtable meeting on Policy and legislative changes to the Refugee Act was recently held in Johannesburg, South Africa.  The discussion brought together SACBC's Pastoral Care for Migrants and Refugees office; the Bienvenu Shelter; Jesuit Refugee Service; Scalabrini Centre of Cape Town, and the Justice and Peace Department in the Archdiocese of Johannesburg. Also participating in the meeting were officials of the South African Government.
According to the Institute, the Archbishop of Johannesburg, Bhuti Tlhagale in his capacity as the Liaison Bishop of migrants and refugees at the Southern African Catholic Bishops' Conference (SACBC) gave the opening address.
In his opening remarks, the Archbishop gave a historical perspective on refugees in South Africa. He pointed out, for example, that the beginning of the Archdiocese of Johannesburg is closely linked to its first migrants from Ireland. He reminded the meeting that Saint Patrick, the patron saint of Ireland, was himself a refugee, a slave and a person who was trafficked for profit. The City of Johannesburg grew out of an influx of people from elsewhere, who came to the city in search of peace, safety and a better life, the Archbishop said.
The Johannesburg prelate stated that migrants and refugees "are our brothers and sisters in search of a better life, far away from hunger, poverty, exploitation and the unjust distribution of the planet`s resources, which are meant to be equitably shared by all."
The Archbishop further said the 2016 Refugee Day would be celebrated at St Patrick Catholic Church in La Rochelle in the Southern Deanery of Johannesburg.
"On June 19, all are invited to join and celebrate the beauty of each culture, and to pray for all who are experiencing suffering, abandonment and persecution", Archbishop Bhuti said.
He closed his presentation by quoting from Matthew 25 when Jesus says, "I was hungry, and you fed me. I was thirsty, and you gave me water to drink. As you have done this to the least of my brothers and sisters, you have done it unto me."
In her presentation at the same event, Ms Nompumelelo Tyobeka, the government's Deputy Director of Refugee Affairs at the Department of Home Affairs stated that her department is currently working on amendments to the state's refugee policy. Tyobeka told the gathering that a Green Paper would soon be made available for open discussion with various stakeholders. She added that her department was ready to put in place policy interventions that target refugees "who are most in need of assistance."
(Source: Scalabrini Institute for Human Mobility in Africa)
Email: engafrica@vatiradio.va