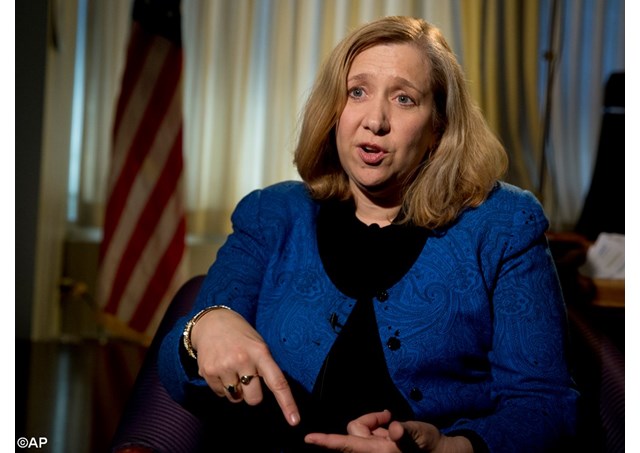 (Vatican Radio) A Vatican summit of legal experts from around the world opens on Friday to discuss ways of combatting human trafficking and organised crime. The two day meeting has been organised by the Pontifical Academy of Sciences and is scheduled to include an audience with Pope Francis and the signing of a final declaration.
Over a hundred judges, magistrates, prosecutors, and representatives of legal organizations from some 20 different countries are sharing best practices from their experience of working to fight trafficking, slave labour and the trade in human organs. In particular they are exploring how they can better incorporate humanitarian values into their legal systems, how to enhance judges' appreciation of the needs of survivors and how money confiscated from the traffickers can be directed towards their victims.
Among those addressing the opening session of the meeting is Ambassador Susan Coppedge, the new U.S. Ambassador at Large for Monitoring and Combating Trafficking in Persons. She talked to Philippa Hitchen about her own work in this field and about her hopes for the Vatican conference…
Ambassador Coppedge begins by praising the Vatican for convening this summit on sharing ways of improving the prosecution of traffickers and bringing justice to their victims.
She explains how she began her career "prosecuting polluters" at the U.S. government's environmental enforcement section. She then met individuals who'd been trafficked and "felt a real calling" to represent those who don't have a voice within the judicial system, those who felt their families had abandoned them and society had overlooked them.
The vulnerabilities of victims
The ambassador talks about the type of trafficking victims she worked with as "anyone who had vulnerabilities", including American kids who'd run away from home, as well as Latin American, African and Asian women recruited into prostitution or domestic servitude.
She notes that traffickers tend to exploit those they know best because they understand "how to speak to them" and how to threaten their families. Traffickers, she says, trade in lies, in threats and when those don't work they use physical violence.
Raising rights of girls and women
The State Department's response to the problem, Ambassador Coppedge says, is based on educating the public about what trafficking is and erasing the vulnerabilities of victims, adding that "by raising the rights of girls and women everywhere you're decreasing their vulnerability to trafficking".
Recounting some moving examples of young survivors who were able to confront their traffickers, the ambassador says she has been impressed by the resilience of young people .
Church plays vital role
She says the Church and NGOs have a vital role to play, working at community level to educate people with a message of caring for their fellow citizens. Pope Francis, she concludes, has done "a remarkable job" in raising the issue of "the victimization of individuals based on economic imbalances" and in raising the profile of the trafficking problem on a worldwide scale.