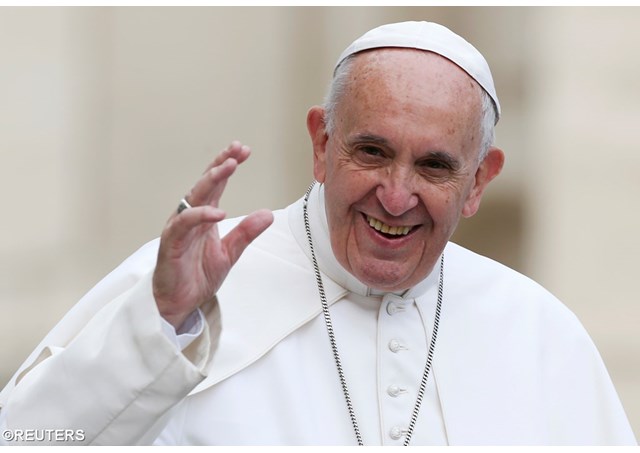 (Vatican Radio)  At the General Audience Wednesday, Pope Francis recalled that Friday, 3 June, the Church celebrates the Solemnity  of the Most Sacred Heart of Jesus which he said this year "is enriched by the Jubilee for Priests."
Pray the Sacred Heart of Jesus for your priests in June
"I invite everyone to pray the Heart of Jesus for the entire month of June and to support with closeness and affection your priests so that they always reflect the image of that Heart full of merciful love," the Pope said.
The Jubilee for Priests falls on the 160° anniversary of the institution of the Feast of the Most Sacred Heart of Jesus,  introduced in 1856 by Pope Pius IX.
To celebrate their Jubilee in Rome, on Wednesday clergy and seminarians from around the world began the first of three days of prayer and reflection 1-3 June with pilgrimages to the Jubilee churches: S. Salvatore in Lauro, S. Maria in Vallicella (Chiesa Nuova) and S. Giovanni Battista dei Fiorentini.
In a note, the Holy See Press Office said that some 6,000 priests and seminarians "are already present for this Jubilee" in Rome.
Events will provide opportunities for them to reflect and mediate together on the Word of God, to adore the Most Blessed Sacrament, to receive the Sacrament of Penance and Reconciliation, and to make a pilgrimage through the Holy Door of St. Peter's Basilica.
Pope to offer mediations for televised spiritual retreat Thursday
On Thursday, Pope Francis will offer three meditations for a spiritual retreat on the theme of "the Good Shepherd: the priest as a minister of mercy and compassion, close to his people and servant of all."
Pope Francis will take part in Thursday's retreat with stops in the three Papal Basilicas:  St. John Lateran, Saint Mary Major and Saint Paul's Outside the Walls (10:00, 12:00 noon and 4pm respectively). The Basilicas will be connected via video link throughout the day so that priests present can follow the entire day's meditations.
"The great novelty" of the Jubilee, said the Holy See Press Office, is that, thanks to the Vatican Television Center which will film the event, the public will be able to follow Pope Francis' meditations for the clergy 2 June on major national and international Catholic television networks and in streaming on the official Jubilee of Mercy website: www.im.va .  Streamed video will be offered in the original Italian and with simultaneous translations  in English, French, Spanish, Portuguese, German and Polish.
Among Catholic stations to broadcast the event in the U.S. are EWTN and BCTV.
The Jubilee celebrations will conclude with a Holy Mass presided by the Holy Father on Friday 3 June in St. Peter's Square.