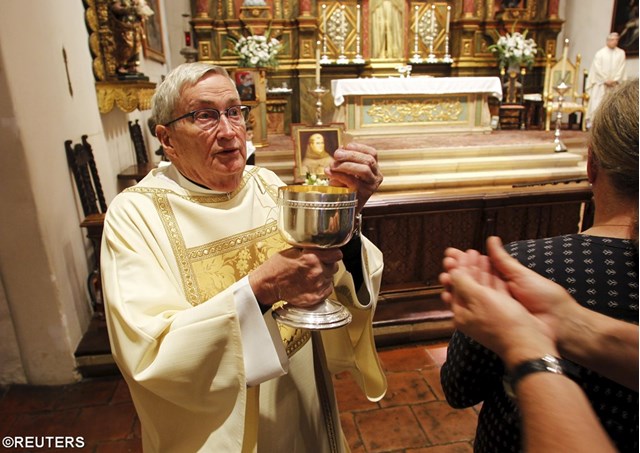 (Vatican Radio)  Deacons and their families from around the world are convening in Rome this weekend to participate in a Jubilee for Deacons as part of the year-long celebrations for the Extraordinary Jubilee of Mercy.
The Diaconate is a ministry rooted in mercy, founded originally so that the Church has specialists to engage in certain works while priests can focus on celebrating the sacraments.
Listen to Alexander MacDonald's report:
Reverend David Howell is a deacon studying in Rome and a seminarian at the Venerable English College. He told us a bit about the origins of this ministry in the Church.
"It began with an argument in the early Church over two groups, those who had come from the Jews and those who had come from the Greeks, and they were arguing about the distribution between their two groups. So they needed men full of faith in the Holy Spirit who could sort out these domestic problems, while the Apostles were preaching, spreading the Good News. And they ordained seven men, who they knew were full of faith and the Holy Spirit, who could sort out these problems. It's very interesting because as soon as they do that the Bible tells us 'the Word of God increased and the number of the disciples multiplied greatly."
He also says the role of the deacon is rooted in mercy, foremost because of its connection to the sacraments.
"Well, I think the two moments of mercy that come to my mind when I think of being a deacon are the two sacraments that the Deacon administers: the Sacrament of Baptism. There is probably no greater act of mercy than that."
And as thousands of deacons descend on Rome, it's appropriate to celebrate the diaconate in the context of the Jubilee of Mercy with the Holy Father.
"Mercy is a message that we need to hear again and again because it's almost too good to be true. And I think the Deacon is one who can really give that message. The Deacon, one of his roles is to proclaim the Gospel and to preach and so I think that's really where the diaconate comes into the Year of Mercy."
The program of events for the weekend includes making a pilgrimage through one of the Holy Doors in Rome, sessions focusing on the ways Deacons make God's mercy known to the faithful and culminates in a Mass with Pope Francis on Sunday.