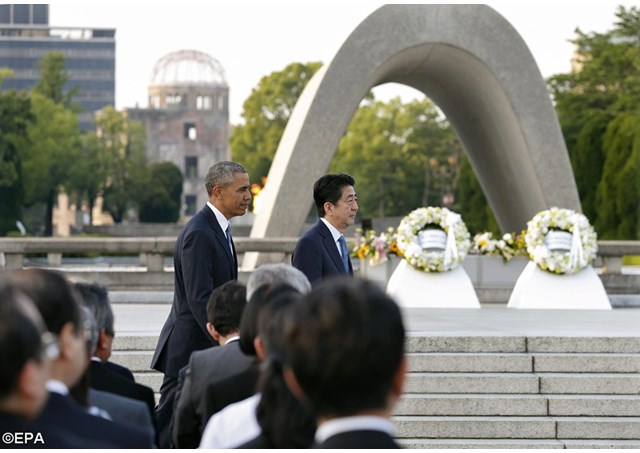 (Vatican Radio)  US President Barack Obama made history today by becoming the first sitting U.S. leader to visit Hiroshima. He paid tribute to the 'silent cry' of the 140,000 victims of the atomic bomb dropped 71 years ago on the city, delivering an address in which he said nuclear nations have obligations to reduce their arsenals. 
Listen to Alastair Wanklyn's report:
During the ceremony, President Obama laid a wreath and then stood in silence at a cenotaph near where the first atomic bomb fell. 
He then made an address in which he said what the world needs is "a future in which Hiroshima and Nagasaki are known not as the dawn of atomic warfare, but the start of our own moral awakening."
He said he will not live to see the world go non-nuclear, but he said all nations that have the weapons must work to that end.
President Obama also said, "Among those nations that have nuclear stockpiles, like my own, we must have the courage to escape the logic of fear and pursue a world without them."
President Obama did not apologise for the bombing. Recent opinion polls in Japan have shown a majority of people here wanted not an apology but recognition of the suffering.
Obama met with two elderly men who survived the bombing in 1945. One of them shed tears and Obama embraced him.
Obama said science should to be used to benefit human life, not to destroy it. "When the choices made by nations, when the choices made by leaders reflect this simple wisdom, then the lesson of Hiroshima is done."
Some observers said Obama's visit was unthinkable only a few years ago. Until recently, the U.S. did not even send its ambassador to take part in Japan's annual bomb commemorations.