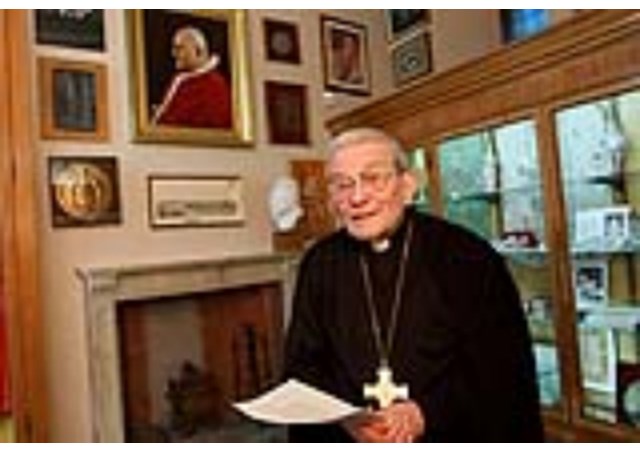 (Vatican Radio)  Pope Francis has sent his condolences to the Bishop of Bergamo, Italy for the death of Cardinal Loris Francesco Capovilla, the former private secretary of Pope John XXIII.  Upon hearing of the Cardinal's passing 26 May 2016 at the age of 100, Pope Francis wrote in a telegram to Bishop Francesco Beschi, in whose diocese Cardinal Capovilla lived the last years of his life:  "I think with affection of this dear brother who in his long and fruitful existence gave witness to the Gospel with joy and obediently served the Church, first in the diocese of Venice, then with attentive affection at the side of Pope John XXIII, of whose memory he was the zealous custodian and expert interpreter. In his episcopal ministry, especially in Chieti-Vasto and Loreto (Italy), he was always a pastor totally dedicated to the wellbeing of all priests and the faithful …with a solid fidelity to the teachings of the Second Vatican Council."
Pope Francis concluded his telegram with a prayer, "with the intercession of the Blessed Virgin Mary and of Saint Mark the Evangelist," so that the Lord will receive his soul "nel Gaudio" and "in eternal peace, " and offered his apostolic blessing to all those who grieve his passing.
Cardinal Capovilla was born on 14 October 1915 in Pontelungo, northern Italy.
He was ordained a priest in Venice, Italy, in 1940; he was appointed and ordained Archbishop of Chieti, in 1967.  From 1971 to 1988, he served as prelate of Loreto, Italy
On 22 February 2014, Pope Francis elevated him cardinal and, cardinal-priest of Santa Maria in Trastevere, Rome.