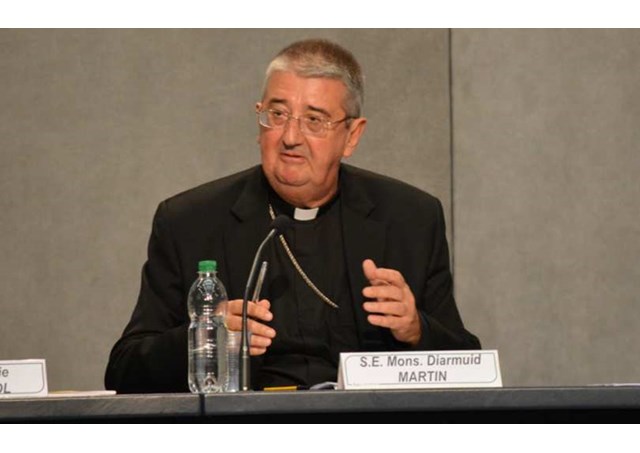 (Vatican Radio) 'The Gospel of the family, joy for the world' is the theme for the 9th World Meeting of Families which will take place in Dublin from August 22nd to 26th 2018.
The event was presented at a press conference in the Vatican on Tuesday by the Archbishop of Dublin Diarmuid Martin and by the head of the Pontifical Council for the Family, Archbishop Vincenzo Paglia.
"Remember, Dublin begins today". Those words were spoken by Pope Francis to Archbishop Diarmuid Martin at the start of the 2015 Synod on the family, shortly after the venue for the next World Meeting of Families had been announced in Philadelphia.
This international gathering may still be more than two years away, but as Archbishop Martin pointed out, it is not an isolated event: rather, it's an extended process of discernment, encouragement, accompaniment and animation, as well as an important milestone in the application of the Synod's final document 'Amoris Letitia'.
Ireland's strong family culture 
Archbishop Martin noted that while the meeting will be an event for the universal Church, it's also a significant experience for Irish families in particular. Ireland, he stressed, is a young country, that maintains a strong family culture, though many people suffer the effects of a housing crisis and severe economic difficulties. The upcoming world meeting, he said, must be an occasion "to encourage and sustain families" in the many challenges they face.
Papal visit to Ireland?
Responding to journalists' questions, both Church leaders said it's too early to say whether Pope Francis will be attending the meeting, though they noted it's been nearly 40  years since the last papal visit of John Paul II in 1979. Due to the IRA murder of Lord Moutbatten in Ireland just a month before, the Polish Pope's planned trip to Northern Ireland was cancelled, so they said there was a desire for Pope Francis to meet with politicians and leaders of the other Churches there, as well as with the Catholic population in the North.
Ecumenism and interfaith participation
Ecumenical and interfaith encounters, the archbishops said, will be a vital part of the preparation process to highlight the importance of supporting families – especially in European countries where the number of births is often well below the replacement rate. They hope the emphasis on joy at the heart of family life can help the Church in Ireland and throughout the world, rediscover the missionary vocation of families as the cornerstone of modern societies.