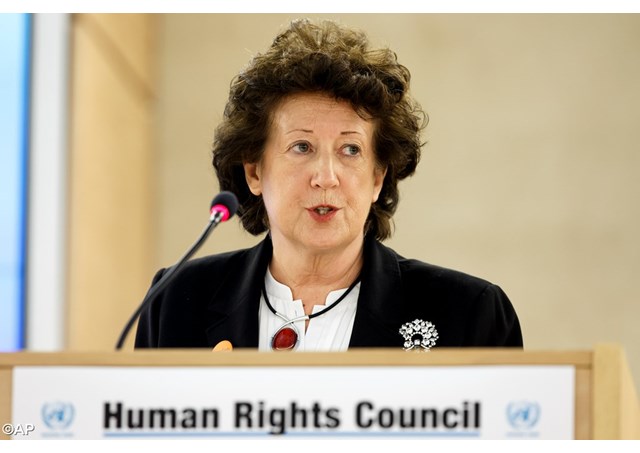 (Vatican Radio) The UK's Special Representative on Preventing Sexual Violence in Conflict, Baroness Joyce Anelay, was in Rome this weekend to speak to religious men and women caring for survivors of sexual violence in conflict counties around the world.
Since 2012 the British government has been spearheading a global initiative to prevent and respond to the problem of rape being used as a weapon of war, for ethnic cleansing or to terrorize local populations. In 2014 a global summit in London brought together politicians, civil society and international organisations to agree on a practical action plan. Last year an international conference gathered faith leaders from different traditions to discuss ways of challenging prejudices, supporting survivors and documenting evidence of crimes committed.
During her visit to Rome on Saturday, Baroness Anelay held talks with Archbishop Paul Gallagher, the Holy See's Secretary for Relations with States and with Michel Roy, Secretary-General of Caritas Internationalis.
At her closed door meeting with religious working on justice and peace issues for their different congregations, the British Minister commended the "determination and commitment" of Catholic religious men and women. She said they have a vital role to play in the struggle to end sexual violence in conflict, noting that frequently they are "the only ones on the ground during and long after conflicts have ended.
The work of religious brothers and sisters is often a very difficult and dangerous task, which is why Baroness Anelay wanted to hear first-hand about ways in which her government can support and fund the work that they're doing….
Listen to Baroness Anelay speaking to Philippa Hitchen: 

The minister says she admires the way in which members of religious communities work constantly with those in the most conflicted areas, often after other NGOs have pulled out.
The British government, she says, can support their work, particularly in funding the collection of information about "these horrific attacks on women" so that the perpetrators can be brought to account and in funding the important social and psycho-social services that survivors need.
Men and women have role to play
It's vital, she notes, to work with both men and women religious, stressing that "this is about all of us, we all have a role to play in making it clear that sexual violence in conflict is wrong, it's not acceptable".
Tackling stigma of survivors
Baroness Anelay says one of the UK's priorities for this year is tackling the stigma of survivors which may include rejection by families and communities, being forced to live outside the village and losing all access to children. Furthermore, she says, if they have a child as a result of the rape, "then they know it's a double stigma because the child will be victimized too".
Faith leaders together with community chiefs
The minister talks about the practical experience of Catholic, Anglican and Muslim leaders in the Democratic Republic of Congo who work with local community chiefs to support survivors.
International Protocol
She also speaks about the International Protocol introduced by the UK and translated into nine languages to support the work of documenting and storing information about rape crimes. In Bosnia, she says, people who committed crimes twenty years ago are being brought to court and successfully prosecuted. The Protocol is also being used to collect evidence in Syria, she says, in the most dangerous of circumstances and although peace may still be a long way off, she insists, this work will lead to an end to impunity.