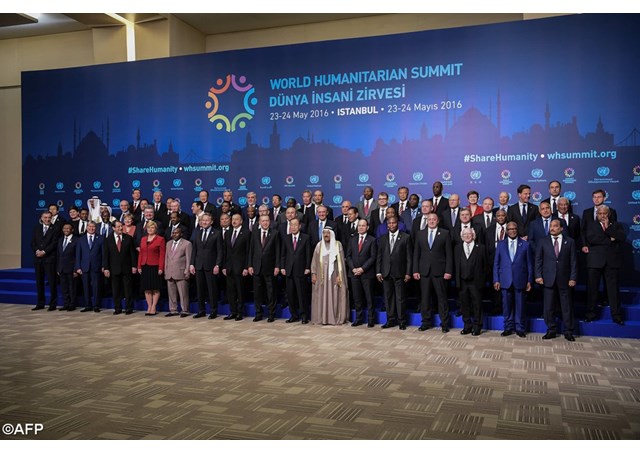 (Vatican Radio) Amongst the key catch phrases at the World Humanitarian Summit in Istanbul is the need to "re-think" and "re-shape" humanitarian assistance.
The Sovereign Order of Malta is present at the Summit with a series of commitments, proposals and testimonies as well as its century old mission to uphold the principles at the heart of humanitarian action: humanity, impartiality, neutrality and independence.
Ambassador Stefano Ronca, the diplomatic advisor of the Grand Chancellor of the Sovereign Order of Malta told Linda Bordoni that the Order has in fact been closely involved in the years of preparation leading up to the Summit:
"I believe the Order of Malta has something to say in the context of humanitarian assistance" he says and refers to its leadership in last year's Symposium, the gist of which was the role of the faith based institution organizations, especially to help populations in areas of conflict.  
He points out that the Order of Malta has much to offer to the process because it is a religious institution:
 "with all the advantages that religious institutions have on the ground,  connecting with local populations more than lay institutions can do because they have a wide base of people of the same confession; because they arrive first and stay longer than other organizations, because they are independent, impartial and politically not bound to any country or force".
 But this, he says, is something that belongs to other religious institutions as well.
Ambassador Ronca says he believes the Order of Malta has much to contribute also thanks to its particular status.
"What the Order of Malta has is that we are a Sovereign entity with a wide diplomatic network in the world. We are represented  at a diplomatic level in 106 countries and in about 30 international organizations with ambassadors and this gives us a status which implies the possibility of connecting at a diplomatic and political level with important interlocutors in the international world and have an access which is an additional element we can play" he says.
Regarding the Summit in Istanbul, Ambassador Ronca says it is necessary to be able to sit down together and make plans to restructure the way humanitarian assistance is conceived and delivered.
He points out that humanitarian aid was conceived at a time – some 30 years ago – when the world had a completely different configuration.
"Today we are in a situation where the  principle of inviolability of frontiers is put into question; where you see other actors which did not exist 30 years ago – non state actors – with very powerful political, mediatic and military force" he says.
And these are only a couple of reasons, Ambassador Ronca says, that "necessarily imply that we rethink the way that we conceive humanitarian assistance today".
For more on the participation of the Sovereign Order of Malta's participation at the World Humanitarian Summit click here.