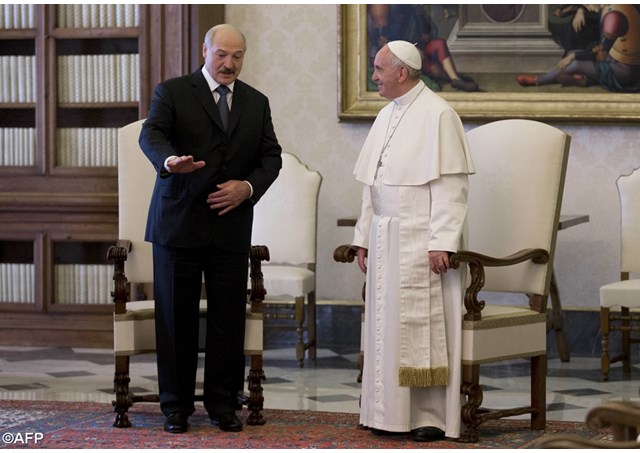 (Vatican Radio) Pope Francis on Saturday morning met with the President of Belarus, Aleksandr Lukashenko, who subsequently met with the Vatican Secretary of State, Cardinal Pietro Parolin, who was accompanied by Archbishop Paul Richard Gallagher, the Secretary for Relations with States.
A statement from the Holy See Press Office called the discussions "cordial", and said "satisfaction was expressed for the good state of bilateral relations and various themes of mutual interest were considered, with particular reference to the life of  the Church in Belarus and the peaceful co-existence between Catholic and Orthodox communities, and  with other religious confessions, in the country."
The statement also said  the role played by the capital of the country, the city of Minsk, which hosted recent discussions with the aim of seeking solutions for peace in the Region, "was underlined."
President Lukashenko presented several gifts to Pope Francis: A cross, an icon, and a model of a carriage.
Pope Francis gave the President copies of the three most significant documents of his papacy: The Encyclical Laudato si', and the Apostolic Exhortations Evangelii Gaudium and Amoris Laetitia.
Ahead of this visit, the Vatican Museums hosted an exhibit of sacred art from Belarus, consisting of 31 icons and 2 icon covers dating as far back as the 17th century.