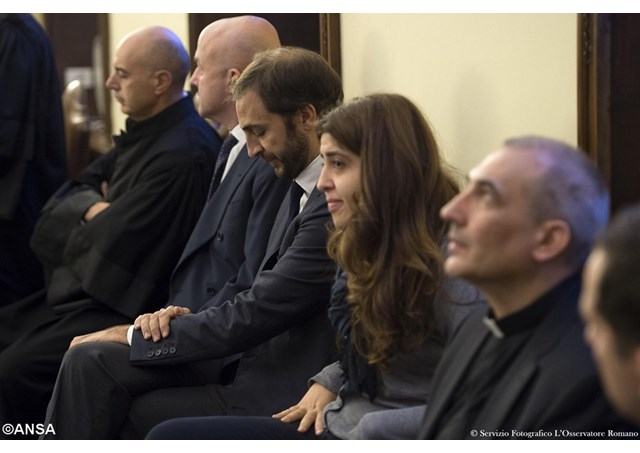 The so called "Vatileaks II" trial continues in the Vatican courtroom. The trial is investigating how various confidential papers from the Vatican were leaked to Italian journalists in the year 2015.
The session on Monday 16th May began at about 15:30 pm. A panel of Vatican lawyers continued to investigate the accused parties, Mons. Lucio Angel Vallejo Balda, Francesca Immacolata Chaouqui and Nicola Maio.
 The accused journalists Emiliano Fittipaldi and Gianluigi Nuzzi were not present at the court session. They were instead represented by their lawyers.
Two other men, Mario Benotti and Paulo Mondani, were also requested to give testimony, but they did not appear at the court session.
(due to their respective absences, both the Prosecution and Defence lawyers requested that their testimony not be used during the trial.)
Instead, more testimony was heard from four other witnesses. They were Fabio Schiaffi from the Prefecture of the Economy, Lucia Eccoli, a health official in the Vatican, Mons. Vittorio Trani, chaplain to Rome's Regina Caeli prison (summoned as a defence witness for Francesca Immacolata Chaouqui) and Gianluca Gauzzi Broccoletti, the Commissioner of the Vatican Gendarmes corps.
After the witnesses had been heard, texts of their testimonies were read back to the court. Due to the length of Gauzzi Broccoletti's testimony, the President of the judges suspended the hearing at 19:15pm, with instructions for the hearing to recommence at 11am the following morning.