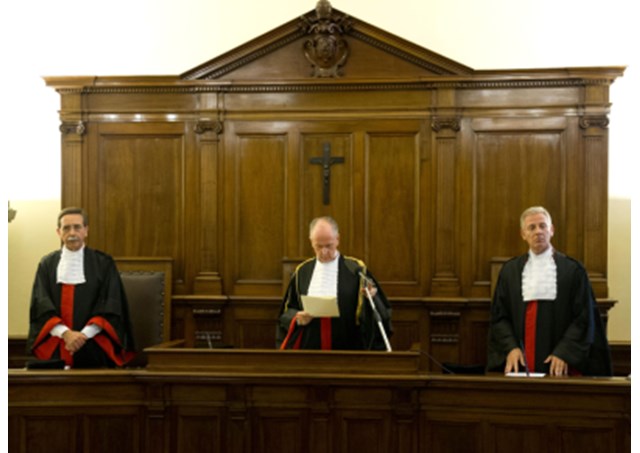 Further details have emerged concerning the so called "Vatileaks II" trial, investigating how various confidential documents were leaked to Italian journalists in the year 2015.
The Holy See Press office issued a six page summary of the court proceedings, where particular focus was given to contents of mobile phone messages and emails from Mons. Lucio Angel Vallejo Balda, one of the accused parties. At the time of the leaks, Mons. Vallejo was an official working in the Organisation for Ecomonic-Administrative structure of the Holy See (COSEA).
Much of the Monday 16th May's testimony came from Gianluca Guazzi, Commissioner of the Vatican Gendarmes corps. The Commissioner told the court about 110 thousand Euro being spent on a computer server to hold all of COSEA's documents. He also pointed out that the computer systems consultant was Corrado Lanino, husband of the accused Francesca Immacolata Chaouqui, and that until recently, no superior in the Vatican had known the location of the server.
Accounts were also heard of how the accused believed they were being spied on, and had began to use the "Whatsapp" messaging service on their mobile phones because they believed that the service was immune to phone taping and interception.
Commissioner Guazzi went on to describe how Mons. Vallejo had access to all password protected documents in the server, and that many of these documents were sent to the accused journalist Gianluigi Nuzzi who, in turn, pressured Vallejo for more information and documents.
Other witnesses at the trial included Fabio Schiaff, who was a protocol officer at the Prefecture for the Economy. He told the court of arguments between Mons. Vallejo and the prefecture's archivist. In particular he told the court of Mons. Vallejo's "Critical and insulting attitude" towards prefecture staff. And how the work environment at COSEA had become very bad and "not a peaceful one."