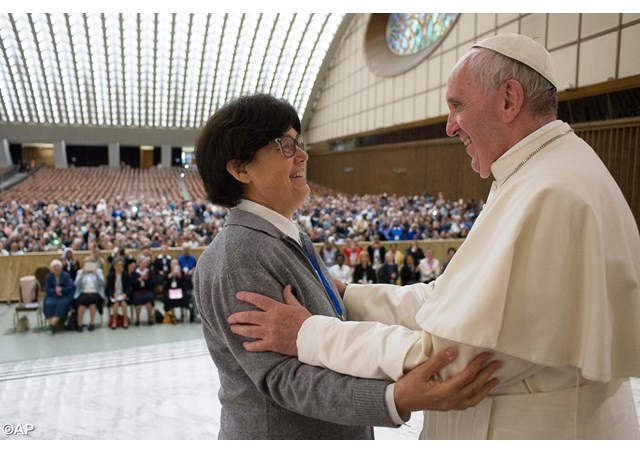 (Vatican Radio) The head of the International Union of Superiors General on Friday shared details of the organisation's meeting with Pope Francis, including his comments on women in leadership and the possibility of their being readmitted to the diaconate.
Sr Carmen Sammut, the president of the UISG and superior general of the Missionary Sisters of Our Lady of Africa, spoke one day after the group of some 900 leaders of women's congregations had a closed door meeting with the Pope in the Paul VI audience hall.
She said that ahead of the encounter the sisters had asked for a dialogue with the pontiff, rather than simply listening to a speech, as happened on their previous meeting three years ago. The UISG then asked for input from their sisters across the globe and received around thirty questions which they were able to put to Pope Francis.
"We were quite excited by the fact that Pope Francis did not leave any question out – he really wanted to answer each of our questions"
Sr Carmen spoke about two of the questions that have been generating news headlines, including the Pope's words on the need for more women in positions of leadership in the Church.
Women in decision-making
"He was very strong about the fact that women should be in decision-making processes and positions of the Church and that this should not be linked solely with the priesthood or sacramental status".
'Feminism' and 'clericalism'
The UISG president noted that Pope Francis warned about two attitudes which do harm to the Church: firstly, what he called a "feminist" position of wanting to be leaders simply because we are women, and secondly, she said, he spoke at length about the problem of "clericalism". All Catholics, the Pope insisted, should be involved in decision making at parish level and at higher levels including in the Roman dicasteries.
Commission on women deacons
Regarding the question of a commission to study the readmission of women to the diaconate, Sr Carmen said the Pope accepted their proposal and agreed to carry the suggestion forward.
"And I hope that one day there will be a real decision about this – this is my hope". 
Please find below the full video statement from the UISG