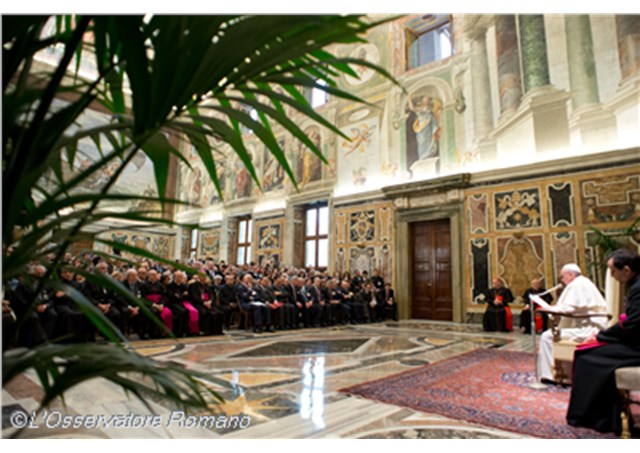 (Vatican Radio) It's been 25 years since Pope St. John Paul II's watershed encyclical on politics, economics, and society and to celebrate the occasion the Centesimus annus – pro Pontifice Foundation has organized a major international conference to mark this anniversary.
The theme for this event, which brings together leaders in commerce, industry, charity, relief, reconciliation, and peacebuilding, is "Business Initiative in the Fight Against Poverty: The Refugee Emergency, our Challenge", and it was on these themes of poverty and migration that Pope Francis took his cue when he addressed conference participants on Friday in the Vatican.
Listen to Lydia O'Kane's report
The Holy Father described to those gathered what he witnessed on his recent visit to the Greek island of Lesbos when he saw for himself the full scale of the refugee crisis.
The Pope recalled, "heartrending scenes of human suffering, especially on the part of families and children" and he told the group he was "grateful for their readiness to bring their expertise and experience to the discussion of these critical humanitarian issues…"
Looking at the issues of poverty and migration from a global perspective, Pope Francis underlined that the international community was being challenged to devise long-term political, social and economic responses to issues such as these "that transcend national and continental boundaries, and affect the entire human family."
"The fight against poverty", the Pope stressed,  "was not merely a technical economic problem, but above all a moral one, calling for global solidarity and the development of more equitable approaches to the concrete needs and aspirations of individuals and peoples worldwide."
An economy of exclusion and inequality has led to greater numbers of disenfranchised reiterated the Pope, as he pinpointed to the numbers of young people unable to find work, which he called a scandal. He also noted how in more developed societies the growth of relative poverty and social decay represented a serious threat to families.
Concluding his address the Holy Father said it was his hope that this Conference would contribute to generating new models of economic progress more clearly directed to the universal common good.
The 2016 Centesimus annus – pro Pontifice Foundation international conference runs from the 12th to 14th May.