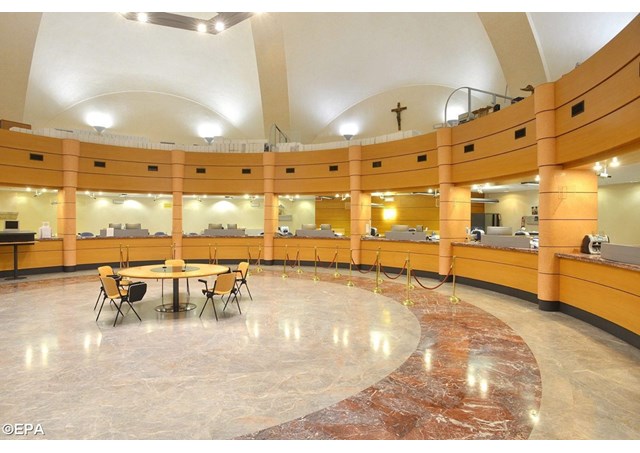 (Vatican Radio) The Institute for Religious Works (IOR), commonly known as the Vatican Bank, released its Annual Report with a press release on Thursday showing it made a net profit of 16.1 million Euros in 2015.  Speaking in an interview with Vatican media, the IOR's Director General Gian Franco Mammì, said it's now "impossible to launder money" there and pledged to continue the institute's drive for reform, renewal and total transparency.  As part as that reorganization drive, the Annual Report said a total of 4935 accounts held at the IOR were closed down last year and all "suspicious" accounts have been reported to the competent authorities. Mammì said the 2015 profits have been given to the Cardinals' Commission that supervises the IOR's activities and the Commission will "make sure" they are available for Pope Francis and his pastoral mission.  
In a roundtable interview with Vatican Radio and the Osservatore Romano newspaper, the IOR's President Jean Baptiste Douville de Franssu and Mammì, both spoke of how strong controls and governance and a major reorganization have been put in place, aimed at making "the IOR as rigorous and clean an institution" as possible.  
Whilst acknowledging past abuses, Douville de Franssu stressed that as a result of the new very strict rules governing who can open an account, it's (now) "impossible to launder money at the IOR." Given that "money is tempting," Douville de Franssu said any financial institution that does not have strong governance and controls is by its very nature exposed to potential abuse. But he said the IOR has put in place a framework to ensure that some of the abuses that may have happened in the past "will never reoccur."
During a visit to the IOR in November 2015, Pope Francis insisted on the need for the institute to adhere to ethical principles that are "non-negotiable" for the Church, the Holy See and the Pope. 
Listen to the report by Susy Hodges: