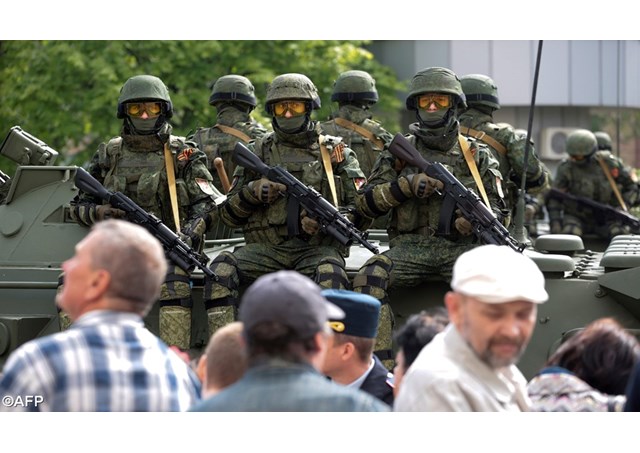 (Vatican Radio) The Organization for Security and Co-operation in Europe is considering sending armed personnel into Ukraine after several of its unarmed monitors were attacked or otherwise threatened in several incidents. OSCE Secretary General Lamberto Zannier made the announcement after visiting staff members who observe a fragile ceasefire between Ukrainian forces and Russian-backed separatists in eastern Ukraine, which is constantly violated, killing soldiers and civilians.  
Listen to the report by Stefan Bos:
Zannier told reporters that unarmed OSCE monitors have been threatened, shot at, harassed and had their access restricted, mainly on side of Russian backed separatists in eastern Ukraine. 
He revealed that various proposals are being discussed to beef up the OSCE's presence, including sending a well-armed police contingent or giving weapons to the monitors especially in the conflict area. 
However Zannier made clear the OSCE first needs consensus on the exact security measures. "So I am very open to be supportive. In the OSCE we have potentially the ability of having a more robust kind of operations [but] we need to have consensus so everybody has to agree." 
SHAKY CEASEFIRE
The OSCE in Ukraine is an unarmed civilian mission to monitor and help implement a shaky ceasefire. But that isn't easy. 
On Monday OSCE officials observed the Victory Day parade in rebel controlled Luhansk. Tanks rolled through the streets and other heavy weapons were seen during the event marking the 71st anniversary of Soviet victory over Nazi Germany and the end of World War Two. 
Yet Alexander Hug, deputy chief monitor of the OSCE Special Monitoring Mission in Ukraine, has mixed feelings about the display of military might.  "Everyone has the right to express their cultural and historical heritage particularly when it comes to marking the May 9 victory day. Heavy weapons in the middle of a major city are not an honor. They are simply a violation of the Minsk [ceasefire] accords and a threat to the people living in that area," he said. 
Hug noticed that several civilians and fighters have died in recent weeks in a conflict that has already killed more than 9,000 people.  The OSCE counted 1,000 ceasefire violations on Sunday alone, while in some areas the enemy lines had moved closer to each other, sometimes being only 100-150 metres apart.
Amid the increase in fighting some 20 Ukrainian government soldiers were reportedly killed in April alone, compared with five in January. Both sides accuse the other of violating the terms of the 2015 ceasefire agreed in Minsk, Belarus, which includes a pullback of heavy weapons.