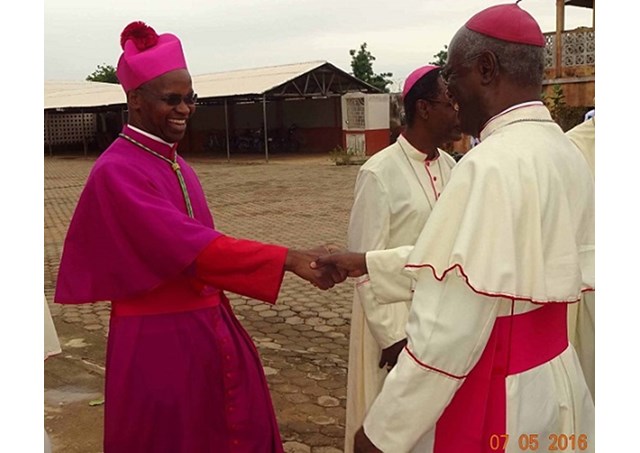 The Catholic diocese of Wa in Ghana has a new Bishop as of 7 May following the episcopal ordination of Bishop Richard Kuuia Baawobr, a member of the religious congregation of the Missionaries of Africa, also known as the White Fathers.
Bishop Richard's ordination was witnessed by many, with Church leaders consisting of Archbishops and Bishops from Italy, Ghana, Nigeria, Burkina Faso and Nigeria. These Church leaders first gathered at St. Andrew's Cathedral in Wa, before proceeding in a convoy to the Sports Stadium.
In a prepared question interview soon after Pope Francis appointed him Bishop of Wa in February, Bishop Richard spoke about his reaction when he was approached for the appointment.
"It took me a while to pray about it and to gather sufficient inner calm and strength to say yes," Bishop Richard said, describing the responsibility as a "challenge."
Below are the answers by Bishop Richard (BB) to the prepared question interview by Damian Avevor (DA), the News Editor of The Catholic Standard News Paper in Ghana.
DA: Congratulations on your appointment as the new Bishop of Wa. As the Superior General of the Missionaries of Africa, how did you feel when you were informed about your new appointment?
BB: I was really taken by surprise and I thought I was not hearing properly the Prefect of the Evangelisation of Peoples, Cardinal Fernando Filoni, when he told me that the Holy Father had appointed me as Bishop of Wa. I had other plans for my missionary life after these years of service to our Missionary Family.
It took me a while to pray about it and to gather sufficient inner calm and strength to say yes. I am not appointed because I am more worthy than others; it is not about my qualities; it is about God's mercy. Since he has chosen me in spite of who I am, I feel challenged to share God's mercy with others in this new call.
DA: Some say uneasy is the head that wears the crown, but would you say your appointment is a big challenge?
BB: Yes, it is a big challenge. As the Dagare proverb has it: "something has to die for the sauce to be nice". I have to die to myself in order to rise with Christ through this service to my sisters and brothers back home. Jesus himself said that "no prophet is accepted in his own native place" (Luke 4,24). I am from Ko Parish.
Wa Diocese is my home. Many people know me, my talents, but also my weaknesses. Archbishop Emeritus Gregory E. Kpiebaya had accepted that I go out as a Missionary from this diocese.
I am confronted with the fact that since I have been out of the Diocese since 1981, first as a Seminarian and then since 1987 as a Missionary priest, home has changed quite a lot and I do not know everything. I am aware of some of the pastoral realities, but I will have to learn a lot from my younger and senior brothers and sisters.
The days following the announcement of the appointment, I have been overwhelmed by the good will messages that have come in through phone calls, emails and the social media. I feel that many are really praying for me and encouraging me and saying, "you are not alone; welcome home; we are happy to work with you". I thank them. I am looking forth to this new experience.
DA: How do you see your new office?
BB: On the day of my priestly ordination (on 18th July 1987), the Christians of Wiagha parish (Navrongo-Bolgatanga Diocese) offered me a gift of a nicely decorated calabash on which my name, the date of the ordination and a motto were written. The motto inscribed on it was "Called to serve". I see my episcopal ministry as continuing this call to serve in a different way.
I have chosen as Motto "Servus Misericordiae Dei" ("Servant of the Mercy of God"). This calabash is on my coat of arms today. The calabash is open, empty, ready to welcome anything, to receive what is offered and to give also what it has received. In the calabash the welcome water is offered to quench the thirsty traveller before any greetings and business can begin.
I will be asking myself and my fellow Christians and other people of good will: "What are we thirsting for? What are we ready to share with others? How can we be servants of God's Mercy to each other in view of building up God's Kingdom where he has placed us?"
DA: As the Bishop, what are some of the priority areas would you envisage to tackle?
BB: There is a saying that "you sit on the old mat to weave the new one". I am succeeding great leaders like the Servant of God, Cardinal Peter Porekuu Dery, Archbishop Emeritus Gregory E. Kpiebaya and now Bishop Emeritus Paul Bemile. They have all contributed significantly to the growth of God's People in this Diocese. I treasure this past and want to build on it. Although I can only walk in my own shoes, I would like to take their vision and carry things forward. It will not be a repetition, but hopefully a deepening of some of their insights.
It will be the case, for example, of bringing the Word of God to the Small Christian Communities in our towns and villages. I therefore, will like to begin by opening my eyes, heart and mind and, together with my predecessors, the clergy, religious and aity, see how can we move forward. It is together as People of God that we will listen to what the Spirit of Jesus is saying to us in our context and with the help of the Word of God, discern how to live as brothers and sisters of Jesus Christ.
Having participated in the Synod on the vocation and mission of the family in the world and in the Church in October 2015, I am keen to share something of that with the diocesan family. The post-synodal Apostolic Exhortation Amoris Laetitia ("The Joy of Love") has come at the right time. How can we as pastoral agents "accompany" the families of our Diocese in their joys and pains to be missionary disciples of Jesus.
In all this an important thing / attitude will be that of humble collaboration and networking within the country and with fellow Christians and people of good will elsewhere. The North-South collaboration has contributed a lot to the establishment of the faith. My own missionary experience shows me that the South-South collaboration is just as important and necessary to complement what is already happening.
I cannot say more about other priority areas as at now since I do not know the entire reality of the Diocese as yet.
DA: What are your expectations from your colleague Priests, Religious and the lay faithful?
BB: I expect that all of us will be joyful and authentic witnesses of our faith and our calling wherever we are. It is through this that we will be able to share the mercy of God that we have received so often ourselves.
DA: What would you want to say to them?
BB: St Augusitine said "For you I am Bishop but with you I am a fellow Christian". That is what I am. The Diocese is not for me! It is for all of us. Let us put our heart into it and reconnect, if necessary, with the enthusiasm of the first call. Let us recall when we first heard Jesus' call and how that mobilized our whole beings to the point that he was the only person who mattered and we committed ourselves to following him. Like Mary, let us say "Here I am, I have come to serve!" She will intercede for us.
(By Damian Avevor, The Catholic Standard, Ghana )