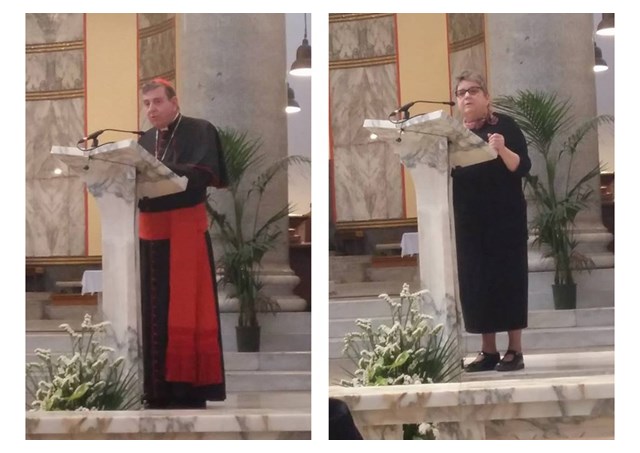 (Vatican Radio) Commemorations for the 500th anniversary of the Lutheran Reformation in 2017 must be marked by a spirit of gratitude, of penitence and of hope. That was the message of Cardinal Kurt Koch, head of the Pontifical Council for the Promotion of Christian Unity, to a Catholic-Lutheran international seminar taking place this week at the Pontifical University of St Anselm here in Rome.
The three day conference, which concluded on Friday, was entitled 'Signs of Forgiveness, Paths of Conversion, Practice of Penance: A Reform that challenges all'. Organised in partnership with the Evangelical Church in Germany (EKD), the meeting included an ecumenical liturgy at Rome's Lutheran Church and Vespers with the Benedictine community of St Anselm on the Aventine hill.
Sr. Susan Wood from Marquette University in Milwaukee gave the concluding lecture, entitled 'From Conflict to Communion?'. As well as teaching and writing about theology and ecumenism, she's a member of both the U.S. and the International Lutheran-Catholic dialogues. She talked to Philippa Hitchen about the way Catholics and Lutherans can jointly commemorate this 500th anniversary – not by telling a different history, but by telling their shared history differently…
500 years on, Dr Wood says, we can choose to remember the Reformation as "a story of Church division or we can tell it as a story of needed reform in the Church", which at the time was very polemical. As with any story, she says, you can tell it with different perspectives and for the first time in history, this anniversary is being celebrated from the perspective of 50 years of ecumenical dialogue.
Asked how well the commemoration is being understood in this light, Dr Wood says it depends on ecumenical formation, adding that for some Catholics, ecumenism is still seen as 'lowest common denominator Catholicism'. On the contrary she says, for unity you need to "go to something higher" as the setting of the Doctrine of Justification within a Trinitarian framework made clear.
Speaking of Luther's objetives at the time of the Reformation - primacy of the Gospel, primacy of Christ, translation of Scripture into German so that people could read them - she says "many of the things he wanted to do at the Reformation were done during the Vatican Council".
Today there is a temptation to use one's ecclesial identity against others, demonstrating that we still have a long way to go in viewing the Reformation in a shared way.  Dr Wood says that we "have to heal divisions at the roots", which were doctrinal so theological work for ecumenism is vital alongside the grass roots work of promoting dialogue through friendships and shared mission.