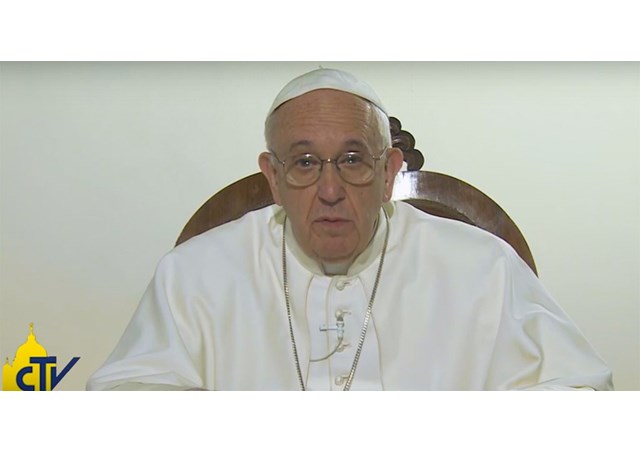 (Vatican Radio) Pope Francis on Wednesday evening sent a video message to the 39th National Assembly of the Confederation of Italian Cooperatives.
In his remarks, the Holy Father recalled the advice he first gave them during a meeting on February 28, 2015, in the Paul VI Audience Hall.
Pope Francis summarized those earlier remarks:
"Continue to be the motor that lifts and develops the weakest part of your local community and of civil society, especially by establishing companies to provide jobs; be leaders in creating new welfare solutions, as you are already doing;  Manage the cooperatives truly cooperatively - that is, involving all; Endeavour to support, facilitate and encourage family life. With the Apostolic Exhortation Amoris Laetitia I indicated a prospective of joy and responsibility, but the people and the families should not be left alone, and must harmonized work and family; Bring good means together with determination in order to accomplish good works. It takes creativity and generosity to capitalize your cooperatives and invest well; Counter the false cooperatives, because cooperatives must promote an economy of honesty; Participate actively in globalization in order to integrate – in the world – development, justice and peace."
The Holy Father then told the participants that since that time "the drama, and often the tragedy, of migrants, terrorism without borders, and the global economic slowdown have made these words even more true."
He told them it is their "origins which give you strength," including their collaboration with the local church, and the ability to reach out to people in need.
"Beginning a business out of need is your talent," Pope Francis said. "Maintain this richness, while you build a common perspective with other associations to make evident the value for every person of the true cooperative."
He encouraged them to be "guided by the commitment to the common good" when deciding what programmes to pursue in the future.
"If the cooperative functions to build solidarity also among its members, it reinforces communal responsibility, the ability to recognize what the generosity of others can accomplish, as well as to accept the limits," Pope Francis said.
The Holy Father said cooperatives build "fraternity," and can be a "witness of how faith animates a concrete commitment" to humanity.
Pope Francis concluded by reminding the participants of the Holy Year of Mercy, and expressing his hope that the commitments taken up by the cooperatives become "an expression of mercy."