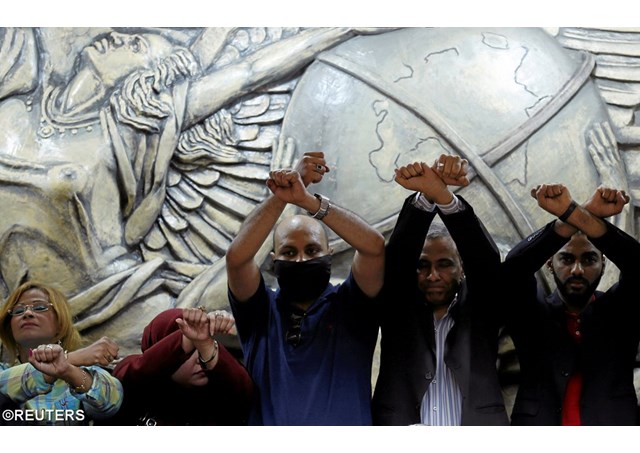 (Vatican Radio) May 3rd each year marks World Press Freedom Day (WPFD), highlighting the need for the international right for freedom of expression in the media and the right to knowledge. Recent reports show that there has been a distressing decline in press freedom globally.
This year there is a particular focus on the freedom of information as a human right, protection from censorship and surveillance overreach, as well as insuring safety for journalism both on and offline.
Andy Smith, a member of the Executive Committee of the National Union of Journalists in UK and Ireland, spoke to Georgia Gogarty, about the significance of World Press Freedom Day and the main issues that journalists are currently facing.
Smith spoke about how WPFD is an "opportunity to mark the importance of the freedom of the press" once a year, 25 years after the Windhoek declaration in Africa. However the situation for free media is worsening, he said.
So far this year the International Federation of Journalists has calculated that 26 journalists and media staff have been killed, and according to Smith, due to the "appalling rate of conviction in some countries" and a "widespread culture of impunity in some jurisdictions", those responsible are failing to be prosecuted.
Smith said that "a healthy open democracy depends on the flow of information" and that without public access to information "you can't have an open democratic government". It is essential that a free media has a "plurality of independent voices" in order to communicate information that is not manipulated by the state, large businesses or crime organizations.
Speaking about the key threats to free press, Smith stressed that the greatest is "not to journalists in conflict zones but journalists in countries where the rule of law simply does not protect them", specifically in countries like Egypt, Turkey and Honduras as well as the wider Middle East region. Due to increases in surveillance, many sources now feel unable to come forward with information about corruption and malpractice he said, resulting in a huge impact on the journalistic ability to highlight those issues and make the public aware.
When asked about the impact of WPFD, Smith expressed the importance of journalists working together with national governments to get them to support their words with actions, for example by engaging with the guidelines set out by the European Council for the protection of journalists. Many governments "profess to having a free press but the practice on the ground is very different", according to Smith, and as a result the freedom of press is restricted, resulting in journalists being harassed, detained and in some cases even killed.