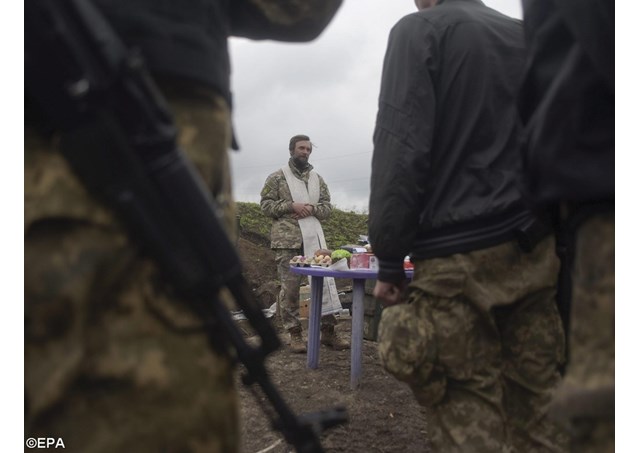 (Vatican Radio) Ukraine's central government and separatists say three people have been killed in clashes in eastern Ukraine despite a previously agreed armistice for Orthodox Easter.
The reports of gunfire came while Orthodox Christians had just begun observing Easter Sunday. 
Listen to the report by Stefan Bos:
Ukraine's military said at least one soldier had been killed and seven more injured in the past 24 hours when separatists shelled government positions overnight at several locations, including the suburbs of the rebel stronghold of Donetsk. 
Rebel authorities reported two fighters dead and four injured in heavy shelling by government forces on Easter night in the past 24 hours.
OSCE SETBACK
The latest clashes came as a setback for Martin Sajdik, the special envoy of the Organization for Security and Cooperation in Europe (OSCE) who had been working for peace in the region. 
Sajdik announced earlier that government forces and Russia-backed separatists had agreed to observe a new cease-fire with the start of the Orthodox Easter in eastern Ukraine, where the festivity is observed both by the Orthodox and by Greek Catholics.
He explained that the Easter ceasefire is needed as "there has been a high level of unrest in the conflict zone and numerous violations of the [previous] ceasefire [agreed in Minsk, Belarus] that cause new human casualties and material damage."
Sajdik also expressed disappointment that prisoners of war remain detained this Orthodox Easter. 
PRISONERS REMAIN
"Unfortunately, I have to note that an agreement for releasing detained persons before Easter has not been reached. We are planning to continue working on this issue at the next meeting," he told reporters. 
Church leaders have still tried to send out an Easter appeal for peace. 
Ecumenical Patriarch of Constantinople, Bartholomew I, urged believers to bear witness to the love of their neighbors amid the atrocities of the contemporary world which, he said, "is torn by terrorism, wars and suffering".
Fighting in the Ukrainian industrial heartland has been raging for more than two years now, claiming more than 9,300 lives.