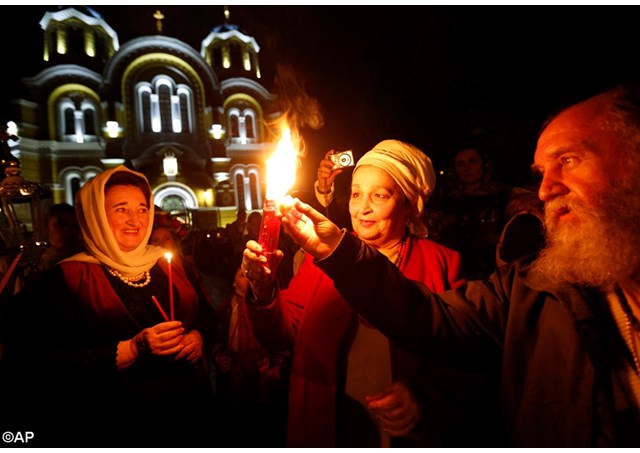 (Vatican Radio) Pope Francis has sent his greetings to the faithful of the Eastern Churches who are celebrating Holy Easter on Sunday, May 1 according to the Julian calendar. 
Speaking to pilgrims gathered in St. Peter's Square for the Regina Coeli prayer he said: "May the Risen Lord bring to our brothers of the Eastern Churches all the gifts of His light and His peace. Christos anesti!"
Earlier, in a tweet launched through his @Pontifex account, the Pope said "I address a cordial greeting to the faithful of the Eastern Churches who are celebrating Holy Pascha today. Χριστὸς ἀνέστη!"
 
Meanwhile during negotiations in Minsk, on the occasion of the Eastern Orthodox Easter, it was agreed that Ukrainian government forces and Russia-backed separatists were to observe a comprehensive cease-fire in the south-east of Ukraine where the festivity is observed both by the Orthodox and by Greek Catholics.
The armistice was supposed to go into effect at midnight Saturday, but according to Ukrainian government sources a soldier was killed and several wounded on Sunday in the country's east in what appears to be a violation of the armistice.
In a message, the Ecumenical Patriarch of Constantinople, Bartholomew I, urged the faithful to bear witness to the love of their neighbors amid the atrocities of the contemporary world which, he said, is torn by terrorism, wars and suffering.
The Orthodox Metropolitan of Italy and Malta, Gennasius, also issued an appeal "to purify one's heart" to be able "to fully feel the presence of the Risen One", while the Patriarch of the Serbian Orthodox Church, Irinej, sent a message asking the faithful to forgive, "not to judge others" and "not to be afraid of the world in spite of worldly ideologies, disunity, hatred and violence."