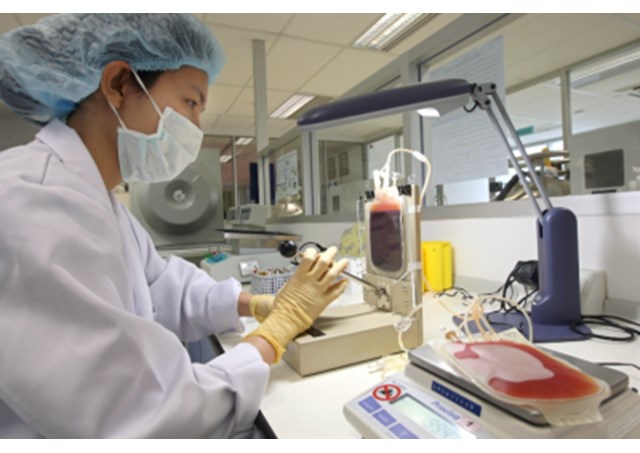 (Vatican Radio)  Advances in regenerative medicine will top the agenda of an international conference opening in the Vatican Thursday.  "Cellular Horizons: How Science, Technology, Information and Communication will Impact Society" 28-30 April is the third in a series of conferences (2011 and 2013) organized by the Pontifical Council for Culture's office for Science and Faith and The Stem For Life Foundation on the Progress of Regenerative Medicine and its Cultural Impact. Researchers, doctors, patients, policy makers, business leaders and philanthropists will look at successful new therapies and attempt to identify ways to make them more available.
Listen to the report by Tracey McClure:
Cardinal Gianfranco Ravasi, President of the Pontifical Council for Culture, says:
"In this Jubilee Year of Mercy, we would like to challenge all of society to search for the cures to human illness.  The advancement of regenerative medicine holds great promise for the future, and together, we must bring these vital cellular therapies to the hundreds of millions of people suffering from disease around the world, especially those from under-served and developing nations.  With this event, we sound a clarion call to humanity that tomorrow's cures can be found today in the human body, and that we have an obligation to bring these cellular therapies out of the clinic and into the real world."
"Whether immunotherapies for cancer or stem cell treatments for rare diseases, there are now over 30,000 cell therapy trials in development noted on the clincaltrials.gov website," says Dr. Robin Smith, President of The Stem For Life Foundation.  "This event will rally the world around a powerful idea – that the cells of our bodies hold the potential to vanquish disease, reduce global suffering and inspire hope for people around the world living with illness."
3 Days focusing on the "cellular revolution"
The focus on Thursday,  the opening day of the conference, will be on ground-breaking therapies offering new hope in the treatment of pediatric cancer, rare diseases and diabetes.  On Friday, speakers will present cellular and technological breakthroughs in cancer and autoimmune disorders, and discuss the delivery of health care using technology and big data.  Pope Francis is expected to greet participants in an audience Friday. Also Friday: talks on "The Dawn of Next Generation Health Care" and "Humans 2.0" exploring societal, ethical psychological and spiritual implications of how technological advances in life sciences are poised to challenge even what it means to be human.
On Saturday, the final day of the conference, speakers will concentrate on "Cellular Frontiers" with emphasis on research, regulation and funding. Talks will focus on stem cell research, and include "Rebuilding and Restoring the Human Body," "Aligning Stakeholders to Build a Regenerative Care Model," "Facilitating Cellular Innovation and Distribution," "Healthy Aging," "Feeding Cells, Starving Cancer and Aging Well," and "Cell Therapy Philanthropy."