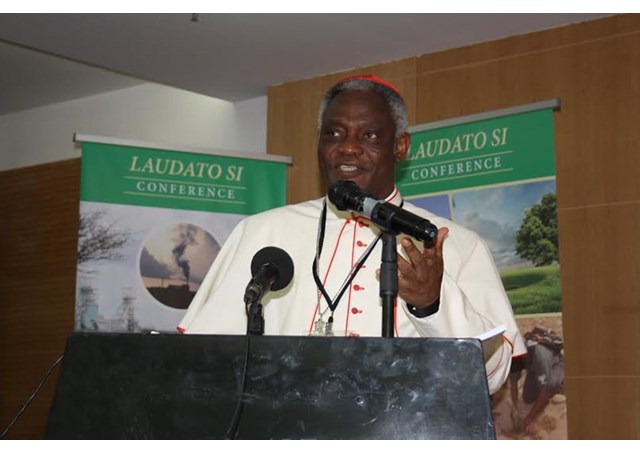 Zambia's Catholic Bishops say they appreciate that the country still needs mining and large-scale farming. The Bishops have acknowledged that mining contributes to the country's development and provides much-needed jobs. They also say large scale agriculture is still necessary for increased food production in the country.
Nevertheless, the Bishops want the country's mining companies and those in the agricultural sector to be more responsive to the needs of the environment and accountable to local communities affected by their activities. 
"Recognising that mining contributes to job and wealth creation of the country,  we, however, challenge the mining sector to begin to practice responsible mining that takes into account the needs of the environment," the Bishops say in a  communiqué issued at the end of a national environmental conference held in Lusaka this week. 
President of the Pontifical Council for Justice and Peace, Cardinal Peter Turkson, was the principal guest speaker at the conference. On Monday Cardinal Turkson addressed the meeting and gave an overview of Pope Francis' encyclical, Laudato sì. Outlining key issues in the document, the Cardinal clarified that Pope Francis was not anti-business. 
The national conference dubbed the "Laudato sì conference" was organised by the Zambia Episcopal Conference (ZEC), through its Department of Caritas Zambia. The Jesuit Centre for Theological Reflection (JCTR) co-hosted the national conference whose theme was, 'Care for Our Common Home in the Context of Large Scale Investments – Mining and Agriculture.' The meeting was held at Lusaka's Government Complex from 25 to 26 April.
Zambia's open-door investment policy meant to encourage foreign multinational corporations to invest in the country has been criticised for prioritising investors at the expense of poor ordinary Zambians.
Zambia is one of the leading producers of copper and emeralds. The government has given over-reaching incentives such as extended tax breaks to lure the multinationals into investing.  
Observers say that the real cost of mining and agricultural investment is borne by the poor who are usually evicted from their ancestral land to make room for new investment projects. The environment also suffers. In some areas, locals accuse mine owners of polluting rivers and sources of drinking water. 
One such case is now making its way at a London court. Dominic Lungowe and 1,812 others have commenced proceedings at London's High Court of Technology and Construction. 
The matter, Dominic Liswaniso Lungowe and others versus Vedanta Resources PLC, and its subsidiary Konkola Copper Mine (KCM) has ignited much debate in the country. 
Dominic and others allege that they have suffered various health problems due to negligence by the international mining giant, Vedanta Resources and its subsidiary KCM. The Zambian Government is equally not happy with the suit and Zambian President Edgar Lungu; last month criticised former Attorney General, Musa Mwenye for prosecuting the  Vedanta Resources and KCM matter in a UK court.  
(Fr. Paul Samasumo, Vatican Radio)
Email: engafrica@vatiradio.va