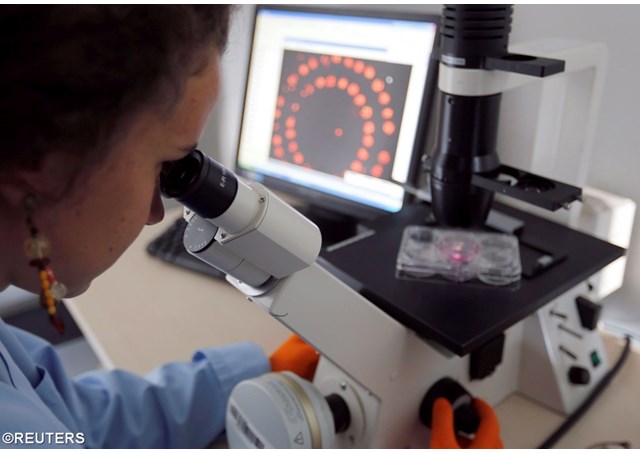 (Vatican Radio)  "The Progress of Regenerative Medicine and its Cultural Impact:"  that's the theme of an international conference coming up later this week in the Vatican.  The third in a series of Vatican conferences on stem cell research and regenerative medicine, the April 28-30 meeting will gather leading medical and scientific researchers, patients, politicians and policy makers, business leaders and philanthropists for an "open dialogue about the interconnections among cellular research, technology, faith and culture."
Listen to this report by Tracey McClure:
Organized by the Pontifical Council for Culture's Science and Faith office, the conference will focus on medical breakthroughs in the treatment of Cancer and Diabetes in children.  The world's some 6,000 rare diseases, which account for more than 300 million patients, will also be examined as a "global emergency" in need of a global response. 
Introducing the conference to the press Tuesday, Msgr. Tomasz Trafny, Director of the Council for Culture's office for Science and Faith, said one of the aims is to introduce to the layman some of the thousands of ethically-sound and "significant" medical advances being achieved in laboratories and clinics around the world.  And, he said, to foster a conversation about novel ways to fund research and make new treatments available to those who need them. 
Bringing business leaders and philanthropists to the table will not only empower researchers, Trafny observed, it may encourage people to look beyond patents and profits so that no one is left feeling "abandoned or marginalized" in the healthcare system.
Trafny said the conference aims at showing that treatments for many illnesses are available now and that "science is truly progressing in a significant way."  "But we also want to challenge scientific views that do not correspond to the boundaries of our code of ethics, without polemicizing or [taking  any irrefutable position]."
Today's Cellular Revolution: our bodies hold the key to cures
Dr. Robin Smith, President of the Stem for Life Foundation which has partnered with the Council for Culture in organizing the conference, noted that the first two Vatican seminars (2011 and 2013) focused primarily on adult stem cell research.   Over the last fifteen years, she said, some 5,000 clinical trials have been carried out using adult stem cells while trials involving embryonic stem cells – which involve destruction of the embryo - have only numbered 38.  This is a clear indication, she observed, that researchers are more successful in controlling the development of adult stem cells for therapeutic use.
What we're witnessing today, she added, is a "cellular revolution" in which our own bodies hold the key to tomorrow's cures.