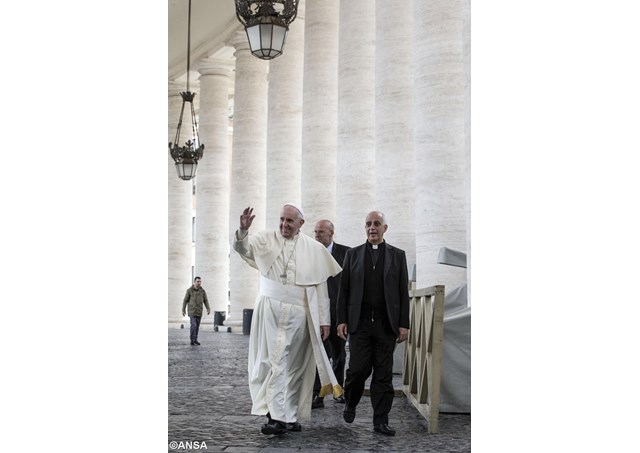 (Vatican Radio)  Pope Francis sent a video message to the thousands of teenagers gathered in Rome's Olympic Stadium on Saturday evening to celebrate the Jubilee for Teens.
In the message, he called them to be merciful like the Father and compared their relationship with Jesus to mobile phone coverage.
Listen to Devin Watkins' report:
In his video message, the Holy Father apologized to the teenage pilgrims for not being able to make it for the event in Rome's Olympic Stadium, but thanked them for their joyful presence.
Making reference to their Saturday morning pilgrimage to St. Peter's Basilica, the Pope reminded the teens that the Holy Door represents their encounter with Christ, who he said, "introduces us to the love of the Father and invites us to become merciful, just as He is merciful."
"Being merciful means being able to forgive. And this is not easy, is it? Sometimes it happens that, in my family, at school, in the parish, at the gym, or while we're having fun, someone does something and we feel offended; or maybe in a nervous moment we offend someone. Let us not remain in that state of anger or desire for revenge! It serves nothing! It's like a woodworm which eats our soul and doesn't allow us to be happy. Let us forgive! Let us forgive and forget the offence we've received, so that we may understand Jesus' teaching and be his disciples and witnesses of mercy," the Pope said.
The Holy Father concluded his video message with an analogy to which the teens could easily relate. He compared their relationship with Jesus to mobile phone coverage.
"How often it happens to me to have to call a friend but I can't get through because there is no service. I'm sure this also happens to you, that you're cell phone doesn't connect in some places… Well, remember that if Jesus is not in your life, it's as if there is no [phone] service! You can't get in contact with someone and you close yourself off. Let us be where there is service! In your family, parish, or school, so that we will always have something good and true to say in this world."