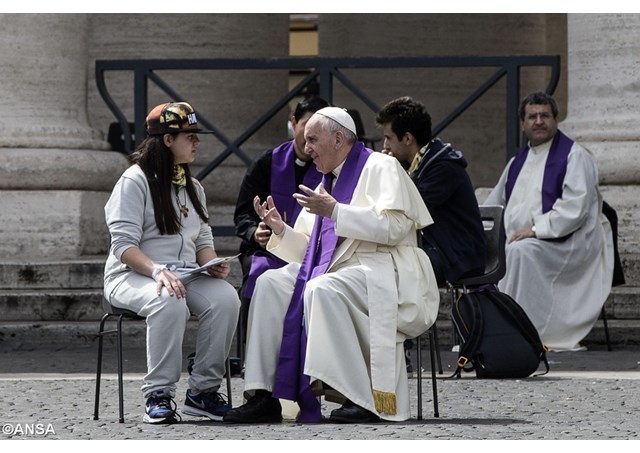 (Vatican Radio)  Pope Francis surprised thousands of teenagers in St. Peter's Square by personally hearing confessions for more than an hour Saturday morning.
The Holy Father administered the Sacrament of Reconciliation to 16 teenage boys and girls gathered in St. Peter's Square for the Jubilee for Teens.
Listen to Seàn-Patrick Lovett's report:
Most people celebrate their feast day eating cake.
Not Pope Francis.
Saturday, April 23rd is the feast of St. George, and Pope Giorgio Bergoglio spent a good slice of the morning listening to confessions…in St Peter's Square.
That's because Saturday also marks the Jubilee for Teens, an opportunity for 13 to 16 year-olds all over the world to reflect on the theme "Merciful like the Father".
Several thousand of them have come to Rome for the event and were in St Peter's Square Saturday morning when the Pope unexpectedly turned up to hear confessions, along with another 150 priests, beneath the colonnade in front of St Peter's Basilica.
Sixteen teenage boys and girls were chosen randomly from among the throngs of banner-waving, rucksack-carrying young people who were participating in the Sacrament of Reconciliation before making their way through the Holy Door.
In a message published earlier this year in preparation for the Jubilee for Teens, Pope Francis wrote: "Don't just prepare your rucksacks and your banners – but your hearts and minds as well".
The Pope will address those hearts and minds personally tomorrow when he celebrates Mass for the teens in St Peter's Square.