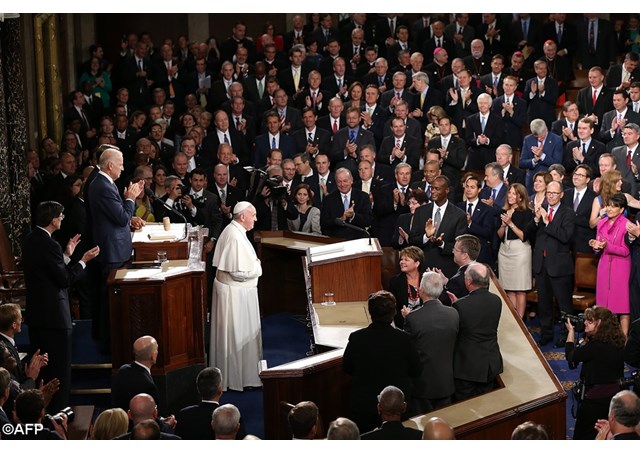 (Vatican Radio) The Libreria Editrice Vaticana has brought out a single-volume collection of Pope Francis' public speeches during his recent trip to Cuba, the United States of America, and the United Nations Headquarters in New York.
Titled, The American Pope: Building Bridges to Build Peace, the bi-lingual edition includes essays from the Editor-in-Chief of the Italian state broadcaster RAI's bureau dealing with religious information and relationships with the Holy See (RAI Vaticano), Massimo Enrico Milone, the Director of the Center for American Studies in Rome, Paolo Messa, and the managing editor of news at the Washington, DC-based Foreign Policy magazine, Lara Jakes.
A presentation of the volume was scheduled for Thursday evening at the Italian Academy for Advanced Studies in America of Columbia Unversity in New York.
Contributor Lara Jakes of Foreign Policy magazine spoke with Vatican Radio's Chris Altieri about the genesis of the project and about her specific contribution to the volume.
Click below to hear their conversation
"I was approached by a colleague [co-author Paolo Messa] in Rome," explained Jakes, "they wanted an American author to write about the part where this American Pope was going to be in Washington, and what would be behind that part of the visit – why was the Pope coming? – What would his impact be when he got to this very divisive city?"
Asked whether it is still too early to gauge the impact of Pope Francis' historic visit to the US Congress, Jakes said, "I think American politicians have a better sense of this Pope." Jakes went on to say, "I don't mean Catholic politicians, I mean American politicians who might not otherwise have thought a great deal about the Vatican [or] paid a great deal of attention to what the Vatican was doing."
"Pope Francis," said Jakes, "really established himself as a world leader when he came to the United States: not just as a spiritual leader, but as a world leader."