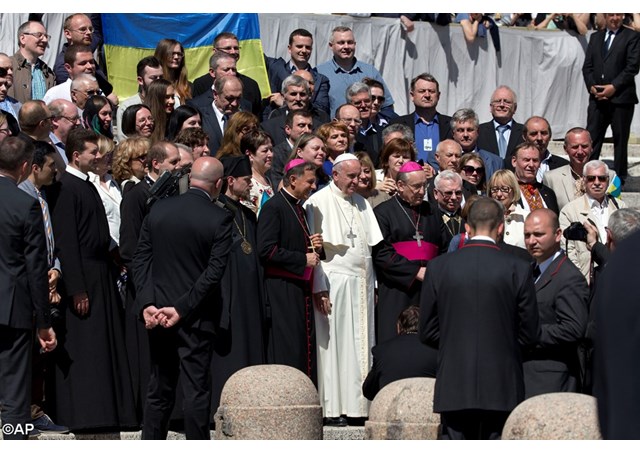 (Vatican Radio) Pope Francis on Wednesday prayed for the victims of the Chernobyl Nuclear Power Station disaster 30 years from the tragedy.
Addressing the various groups of pilgrims of different nationalities present in St. Peter's Square for the General Audience, the Pope had special greetings for those from Ukraine and Belarus.
Mentioning the International Conference that has been organized to mark the anniversary, Pope Francis said he is "praying for the victims of that disaster while expressing appreciation and gratitude to those who have assisted them and for the initiatives aimed at alleviating their suffering and the damage."
Vatican Radio's Linda Bordoni asked Kate Hudson, General Secretary of the Campaign for Nuclear Disarmament, to recall what happened at Chernobyl on April 26, 1986:
Kate Hudson explains that during routine activity at the Nuclear Power Station there was an unexpected power surge and attempts to deal with it the resulting in a reactor fire which provoked an enormous disaster at the Power Station.
She says it was located in the former Western Soviet Union, just inside the Ukrainian border, but it "very much impacted on Belarus and Russia and of course Western Europe as well eventually, through the transportation by air and the weather systems of the radiation".
Hudson says the result was an absolute catastrophe for the local population: "the nearest city, Pribyat, had to be evacuated and hundreds of thousands of people were evacuated from the area and permanently re-located away from their homes".
"Of course the environmental consequences – huge areas that are not allowed to be lived in – the health consequences are still very much with the community there. The instances of childhood thyroid cancer and leukemia are very much more prevalent in that area" she says.
Hudson points out that it is a tragedy ongoing.
"It was wonderful to hear the Pope's words on this subject: his humanitarian response to the needs of that community and of the support that they continue to receive" she says.        
Kate Hudson goes on to speak of the 2011 Nuclear Power Station disaster in Fukushima and of how, in many respects, it does not appear that the world has learnt its lesson.
She talks of the need to be vigilant and to advocate for alternative energy production, of the many large and small nuclear power station incidents that have happened and continue to take place, and of the role of the Campaign for Nuclear Disarmament.
"We urge people to look at the consequences of government decisions, whether they are on nuclear energy or on nuclear weapons: it's a technology that is too dangerous to retain" she says.