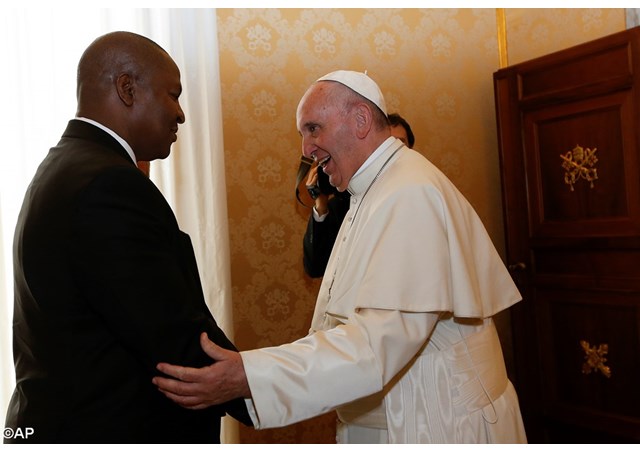 (Vatican Radio) Pope Francis met on Monday with the President of the Central African Republic, Faustin Archange Touadéra, recalling the warm welcome he received during his pastoral journey to that country last November. During his visit to the Vatican, the President also held talks with Secretary of State Cardinal Pietro Parolin and the Secretary for Relations with States, Archbishop Paul Gallagher.
A statement from the Holy See press office said the cordial talks between the Pope and the President noted how the recent electoral process and the ongoing institutional reforms are taking place in a constructive manner, supported by dialogue between the different religious communities. The two leaders expressed the desire that this process may mark the start of an era of peace and prosperity for the entire nation.
At the same time, discussions also focused on the way the consequences of the years of conflict still weigh heavily on the people of the CAR, stressing the need for the international community to continue to support the development of the country.
The statement said the two leaders also spoke about the good bilateral relations between the Holy See and the Central African Republic, sharing the hope that those relations may be further consolidated through legal instruments in the context of international law.
Finally the communique said appreciation was expressed for the contribution of the Catholic Church and its pastors to the wellbeing of society in the CAR, especially in the fields of education, health care, reconciliation and national reconstruction.