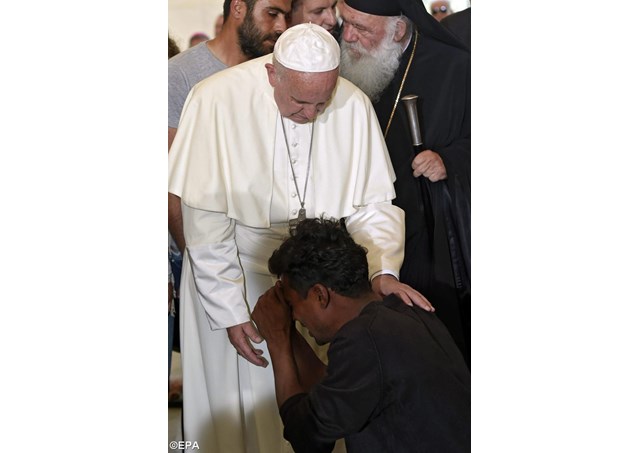 (Vatican Radio)  Pope Francis on Saturday made an emotional visit to the Moria refugee camp on the Greek island of Lesbos where he met and chatted with its inmates, some of whom broke down in tears when they met him.
The Pope was accompanied on his tour by the spiritual leader of the Orthodox world, the Ecumenical Patriarch of Costantinople, Bartholomew I and the Greek Orthodox Archbishop of Athens and All Greece, Ieronymos II. The Pope, Patriarch and Archbishop shook hands and chatted briefly with some of the refugees inside the camp. 
More than 3,000 refugees and migrants are being held at Moria that has effectively being transformed into a de facto detention centre after the recent deal signed between the EU and Turkey. Under the terms of this deal, refugees and migrants whose asylum claims are refused or who do not make a claim, are to be deported back to Turkey.
There were a number of poignant moments during the visit when several refugees and migrants broke down in tears as they met the Pope and the other religious leaders during their tour of the facility.
One man sobbed loudly as he knelt down before a visibly moved Pope Francis and asked God to bless him. The Pope listened in silence and then spoke some words of comfort to the man.