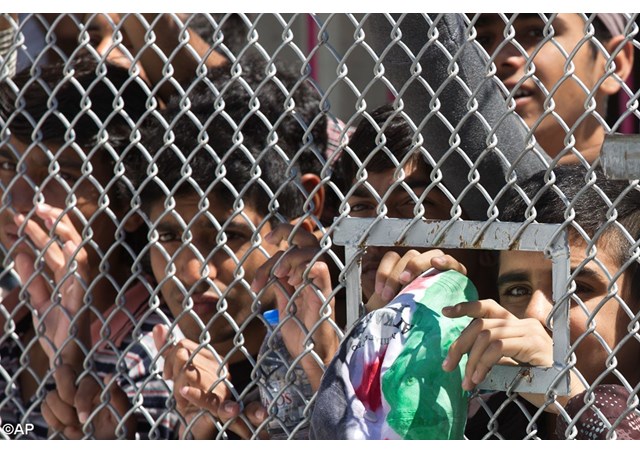 Norwegian Refugee Council and SolidarityNow have called on the European Union to halt the deportations of refugees and migrants from Greece to Turkey. They also say those wanting to seek asylum should not be kept in detention.
Refugees could be returned to Turkey without having had a proper asylum hearing or without receiving the necessary information about their legal rights, the aid agencies warn. Forced returns to Turkey were restarted after a pause last week.
Over 6,300 refugees and migrants have arrived on the Greek islands since the EU-Turkey deal came into effect on 20 March, and are being arbitrarily held in detention camps. The majority of these new arrivals have applied for asylum. While the European Commission said on 4 April that Greece had sent 1,500 asylum case officers and police officers to the islands, there is no evidence of this additional capacity on the ground. 
The Greek Asylum Service remains severely understaffed with only a handful of officials and caseworkers on the island to process cases, who are struggling to cope with the demand of asylum requests. Unless the promised additional capacity arrives, the quality of the asylum process will be severely compromised.
 Compounding the pressure are new 'emergency measures' adopted into law by the Greek Government on 3 April, which includes an expedited 'fast track' asylum hearing to determine admissibility. Under these new procedures, Greek asylum officials must undertake complex asylum examinations, including decisions on whether or not Turkey is considered a safe country for return. These complex reviews that determine a person's future take place in just one day.
Farah Karimi, Oxfam Executive Director said, "Thousands are being held in squalid detention centres on the Greek Islands - this is the state of Europe in 2016 - while the returns deal was pushed through to the detriment of these stranded suffering people by the EU which claims to be a bastion for human rights. Shame on the EU for prioritizing detention and deportation over people's rights to safety and dignity."
Even with the support of this promised extra staff, it will take weeks to process the asylum claims of the more than 6,300 people currently being held in overcrowded detention centres on the Greek islands.
Aid agencies are calling on Europe to:
Immediately halt all returns from Greece to Turkey.
Immediately open all camps where people have expressed intention to seek asylum.
Immediately improve security to ensure a protective environment for all people inside the closed facility.
Maintain the integrity of the asylum claims process and ensure people have access to legal aid as a matter of urgency.
Increase the number of staff working with the Greek Asylum Service on the islands to process these claims and ensure people are able to access their right to claim asylum before any deportation order is issued.
Put an end to arbitrary arrests and detentions. The increasing use of detention as a restriction of the freedom of movement of asylum-seekers on the grounds of their irregular entry is a major concern.
(Norwegian Refugee Council)